Breakdown on Get Hired! bootcamp – what is it?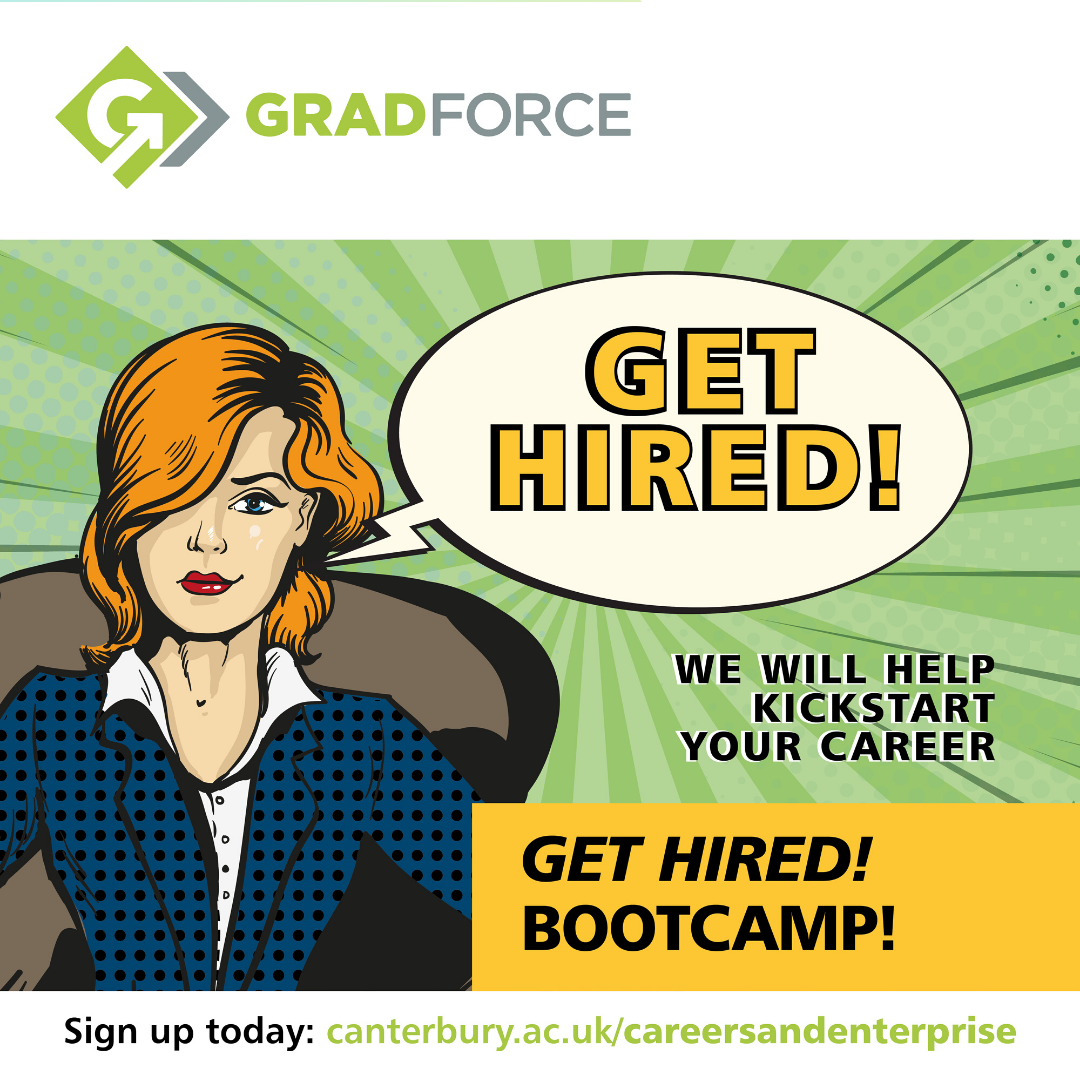 You may have heard the word GradForce around the University in the last couple of months? GradForce is a new project that aims to help CCCU students find local graduate employment. We have created an exclusive free training programme that you can sign up to today to enhance your skills for the graduate workplace!
The Get Hired! bootcamp is a three-week course of skills sessions that will help you:
Learn what employers are REALLY looking for in a good employee
Build confidence in yourself and realise what YOU have to offer an employer
Understand EXACTLY how to nail the graduate job selection process
WEEK 1: YOU AND YOUR POTENTIAL
Who Do You Think You Are? – Learn how you can improve your mindset and resilience in the face of failure.
Support in the Workplace: Visible and Invisible Disabilities – Get some advice in disclosing a disability, your legal rights and the support available
The Story of You – Discovering your values and building your personal brand
Think Like A Recruiter – Lifting the lid on graduate recruitment and how to succeed
The Future World of Work – A whirlwind tour around a range of UK sectors that typically hire graduates!
The Rainbow Connection: Diversity in the Workplace – Join LGBT advocate Ian Elmslie for a discussion about how vital it is to bring diversity into the workplace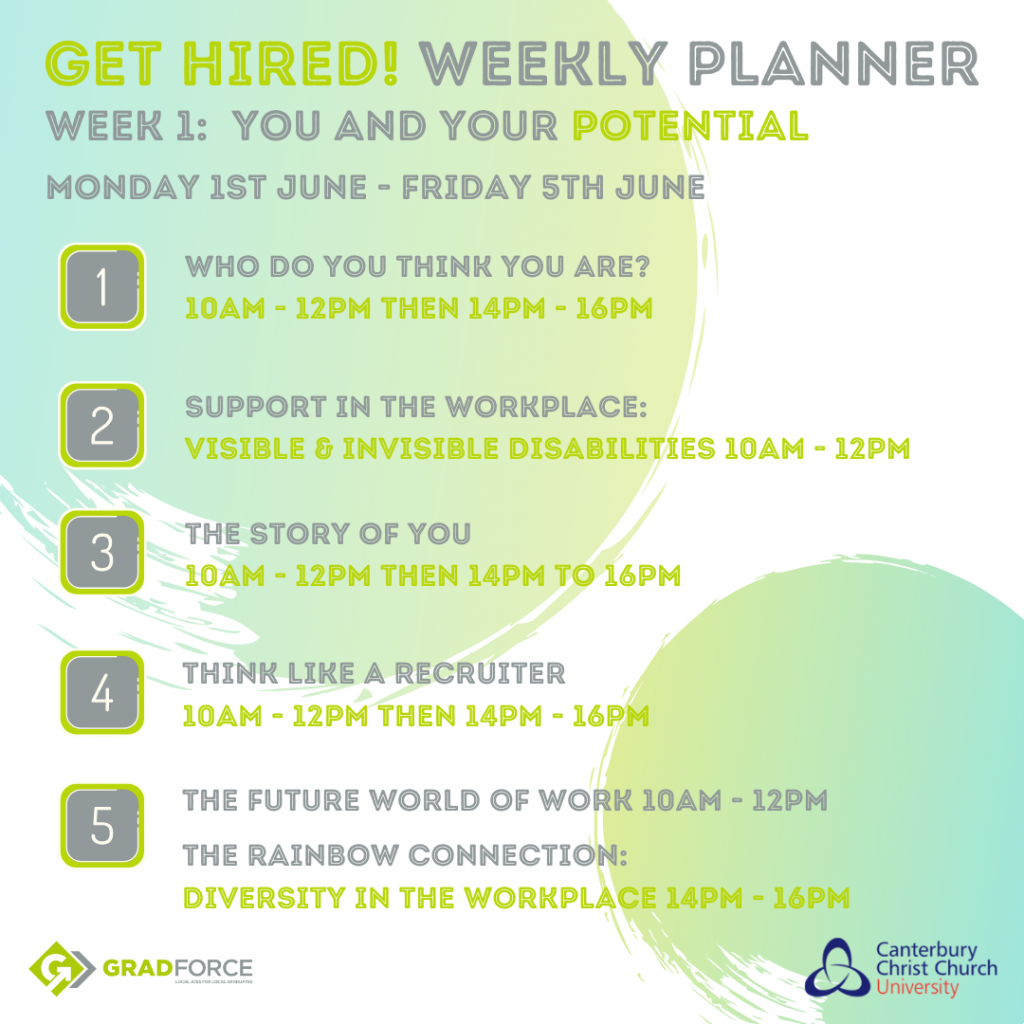 WEEK 2: DIGITAL SKILLS
Microsoft Outlook Training – Learn one of the most desired skills that employers need you to have in the workplace
LinkedIn – Rock Your Profile – Join Ralph from LinkedIn who will share the top tips on how to make your profile stand out!
One Click Away: Are You The Cyber Security Weakest Link? – Learn cyber security hints and tips about how to avoid being the weakest link
Growth or Survival – Enabling Your Mindset to Growth – Join Rich Cook from Mindset Practice to learn the tools you need to become more resilient!
Microsoft Outlook Training – Learn one of the most desired skills that employers need you to have in the graduate workplace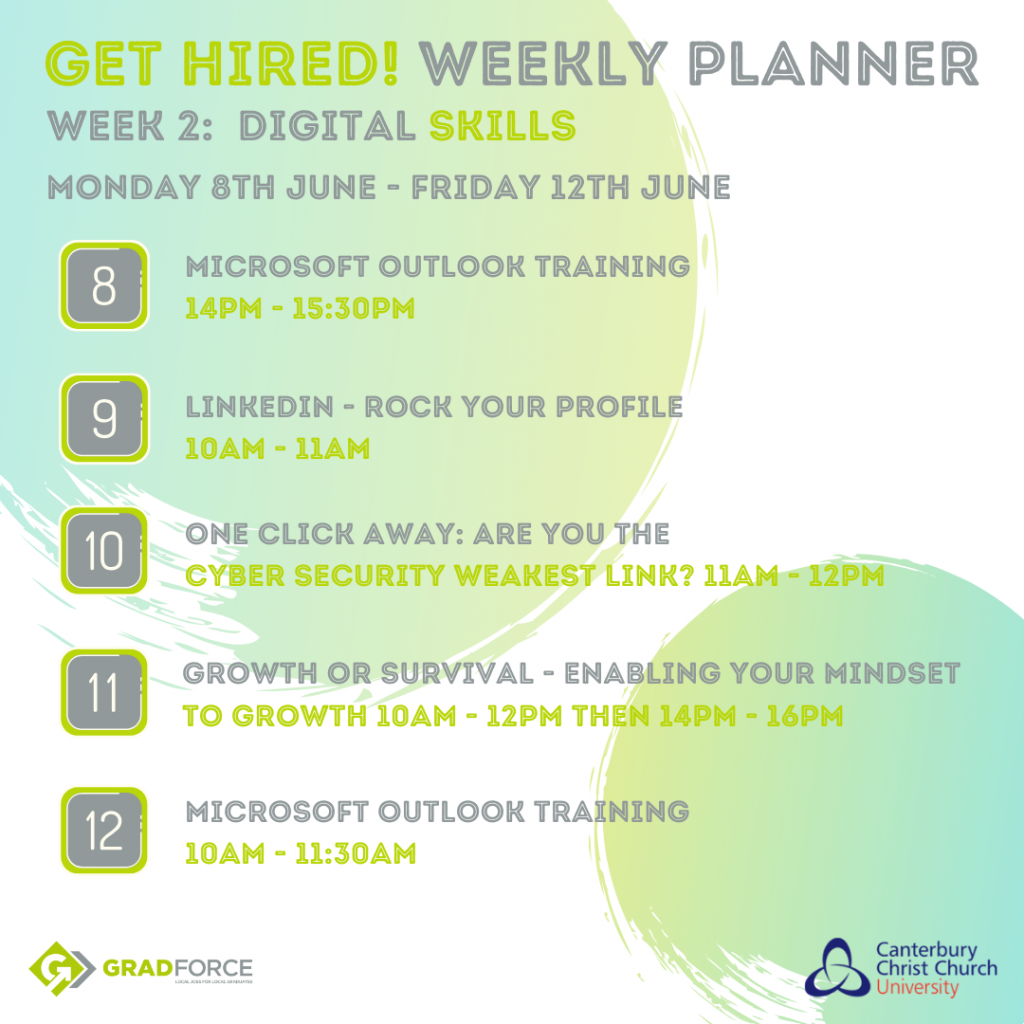 WEEK 3: YOUR FUTURE
Breaking Through Glass Ceilings – Overcoming the barriers that can hold your career back
Comedy for Careers – Using improv comedy for career confidence
Commercial Awareness – How businesses really work and having impact in your first graduate job
Networks and Relationships – From interviews to events: how to make a good first impression
Question Time – Quiz our panel on the world of work
Project Management 101 – A journey through project management from start to finish
Finishing Touches – A day of fun, interactive activities to test drive your new skills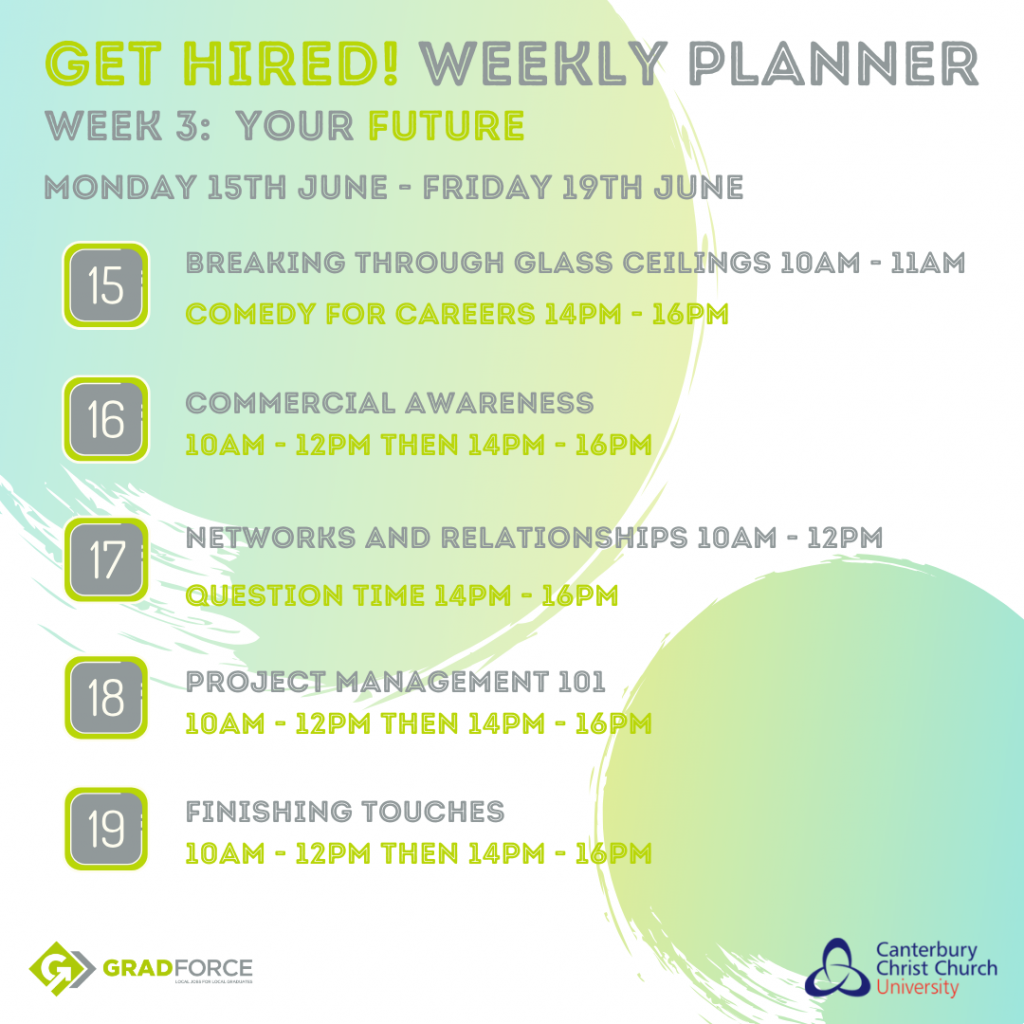 Certificates for attending:
At GradForce, we also want to reward you for taking part in the Get Hired! bootcamp so you have something tangible you can show employers when applying for those graduate jobs! There will be three tiers of awards: bronze, silver and gold!
Bronze: Attend 3 or more sessions
Silver: Attend 5 or more sessions
Gold: Attend 8 or more sessions
STEP 1: Sign up to GradForce here.
STEP 2: Sign up to Get Hired! bootcamp here.
FAST-TRACK INTO GRADUATE EMPLOYMENT WITH GRADFORCE!