The Verena Holmes Gallery will be showing the work of Ji Sun Sjogren from September – December 2021. Entry is free, but booking is required. Please visit this link to find tickets.
The Procedure features a series of 25 pencil drawings demonstrating the steps that Ji Sun Sjogren takes as a scrub nurse over the course of a single urology procedure during a morning's operation. Having originally trained and worked as an artist, Sjogren recently embarked on a new career as a nurse, graduating from Canterbury Christ Church University in 2018 and now working at Kent and Canterbury Hospitals.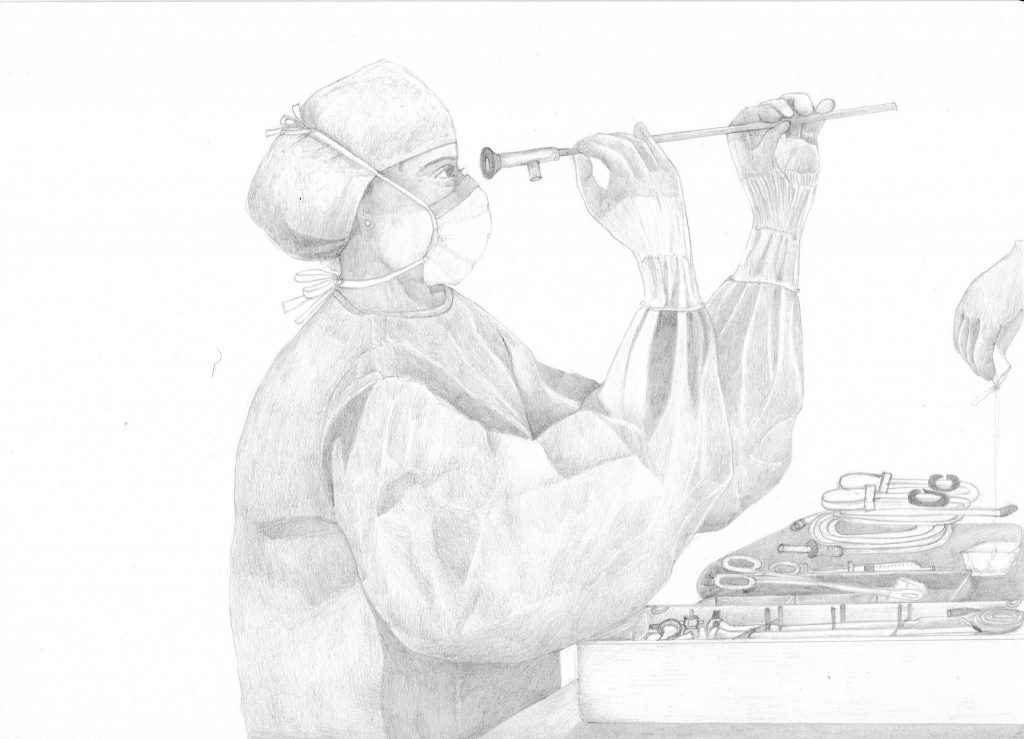 While she was studying, Sjogren found that she was better able to understand and retain all of this new information by drawing diagrams and sketches. As she explains:
"Drawing from memory is something I felt compelled to do as an artist whilst working first as a carer and then working for the Community Nurses. I used drawing both as aide memoires as well as a way to relax and reflect. Later on, my need for drawing became more pronounced as a scrub-nurse working alongside surgeons. There is so much to learn and sketching is the only way to jot down information quickly. Emotional tagging is also important. Emotions soften the hard exterior of surgery and bring in a realism in the portrayal of life inside theatres. As surgical advancements shape our work practices the urge to record these changes is increasing."
This process has now evolved into the highly detailed illustration in her new series of works. As Sjogren is wearing full PPE and of course does not carry a camera or phone with her while working, she is unable to make any sketches while in the operating theatre. Instead, she relies entirely on her memory to build the scenes, starting out with a rough sketch and using an iterative process to create the final images, anonymising the figures in the drawings and honing the technical details.
Through this process, Sjogren continues the ancient link between illustration and medical studies. In addition to reflecting her own experiences through these scenes, the resulting images give clear insight into the meticulous routines that she and her colleagues perform every day.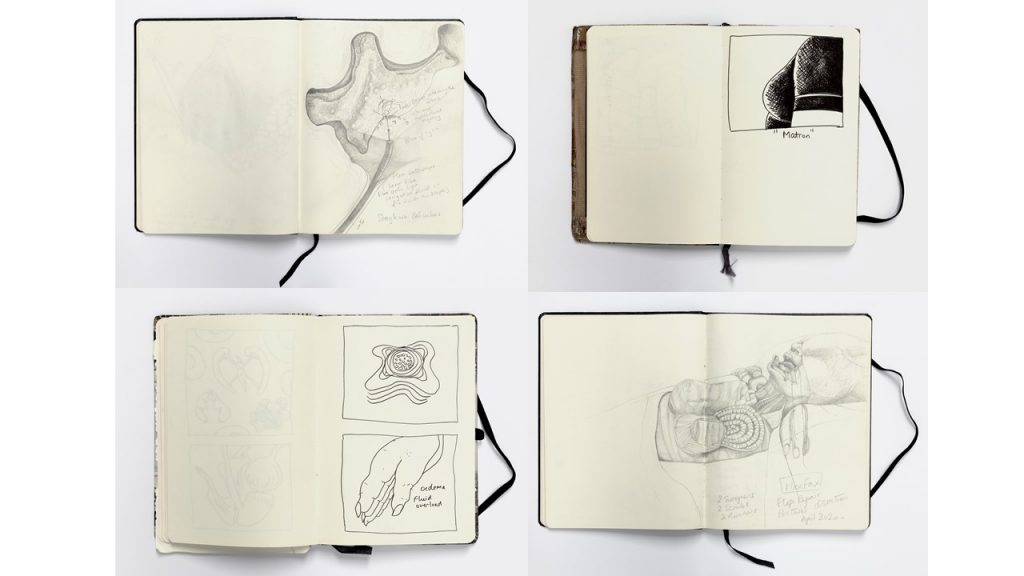 Alongside this work are excerpts from Sjogren's new Covid series. These drawings show how the working procedures of her department profoundly changed from March to May of 2020 as the severity of the disease became apparent and all available hospital staff and resources turned their attention to the care of these patients and the limiting the spread of infection. Examples from her sketchbooks have also been reproduced.
Ji Sun Sjogren completed her BA at Winchester School of Art in 1993. Her work has been shown across the UK, Europe and Asia. After becoming a mother in 1998, she worked as a freelance artist creating commissions, collaborations and art events for a range of organisations including Strange Cargo (Folkestone). You can see more of her work on her Instagram account @scrubbartist.