The Daphne Oram Gallery will show a new exhibition by Euphemia MacTavish from September 20 – October 30, 2021.
For Things Not Meant to be Seen, Euphemia MacTavish brings together works made primarily in situ in Luxor, Egypt. Having worked in the major archaeological sites of the Ramesseum Temple, the Valley of the Kings, and Nobles tombs, since 1994, the works in this show date from the past seven years and mark a return to painting for MacTavish. These highly detailed paintings and etchings both document and encode the spaces, capturing the collision of ancient histories and the contemporary life that continues all around.
The exhibition will be open to the public from Tue-Thu 12:00 – 17:00, and for the three Saturdays of Canterbury Festival: Oct 16, 23 and 30. The exhibition is free, but tickets must be booked in advance here.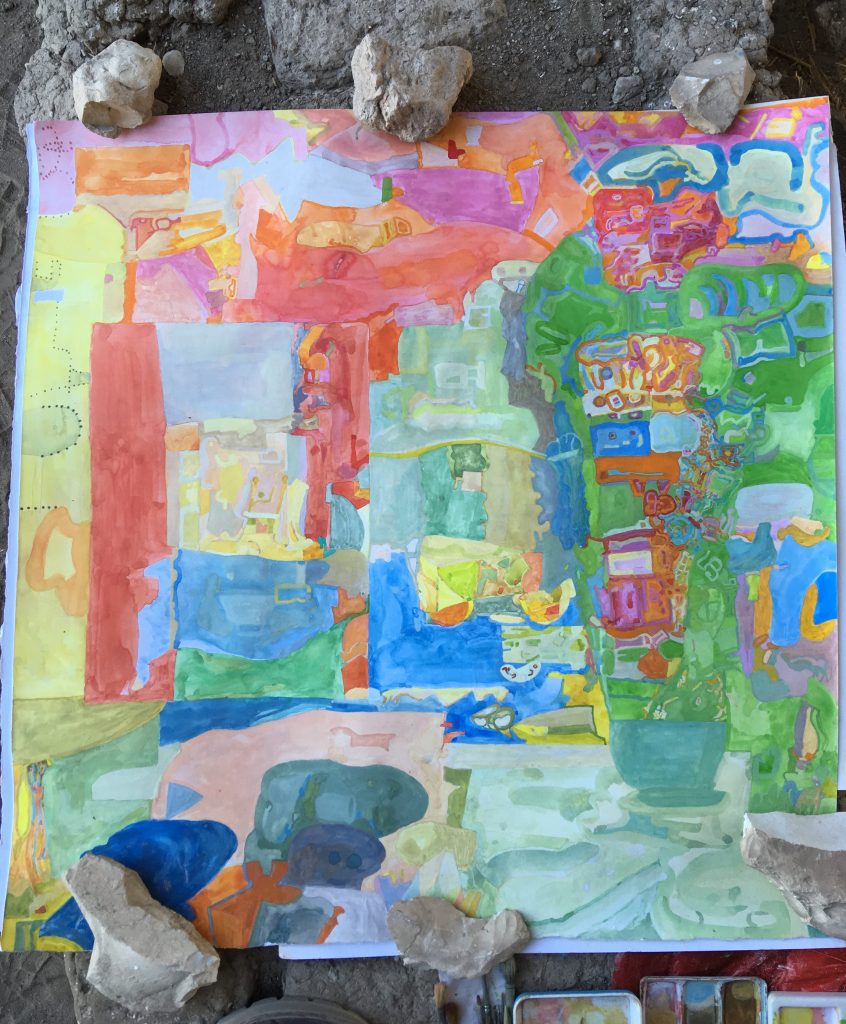 MacTavish explains the draw of Luxor as:
'the traces of a civilization with present day culture, villagers and archaeological missions in the ancient valley of Thebes mortuary complex. Mudworks, etchings, small films, panoramas, drawings and paintings, the becoming of immersive investigations.
'Stories, myths, superstitions, signal a development, structure and decay, gathering into a conglomerate of time, grubs, worms, grains, dust, mould, dispersing and collecting, to form again. The grub that eats the papyrus has gained a knowledge… I am observing an actual moving history of kind.'
Burying herself in these locations, MacTavish brings careful attention and focus to things never meant to seen.
Euphemia MacTavish studied at Edinburgh College of Art for both her BA and MA in Illustration. She worked in London as an Illustrator for publications including Spare Rib Magazine as their Resident Illustrator, and with European Illustration exhibited at the Pompidou Centre in Paris. She was commissioned by the British Museum to film the 'Yanni House' in the village of Gurna, Luxor, and her Panorama of the Ramesseum Temple was purchased for the Prints and Drawings Room Collection.
MacTavish's career as an educator began with teaching etching alongside Fred Cumming in the Metropole, Folkestone, and then printmaking at Maidstone College of Art with Mike Birtchnall. She was the subject lead in Printmaking at Canterbury Christ Church University until 2018 and then artist-in-residence for 2019-2020.
This exhibition was curated by Dr Katie McGown, Head of Arts and Culture and Senior Lecturer in Curatorial Practices. Exhibition photography and videos by Shaun Vincent. We are grateful to Ben Rowley for permission to share his film and interview. For tickets to the show and our full listing of events and activities, please visit the Arts and Culture calendar.