Canterbury – A seat where it's all to play for?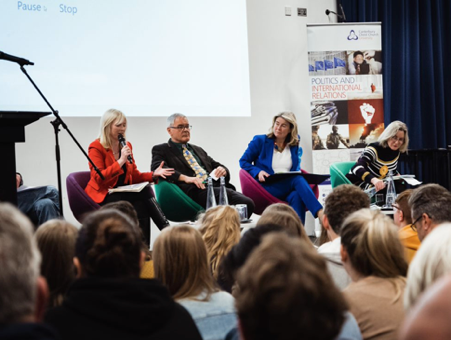 In the aftermath of the 2017 general election, Canterbury dominated national headlines. Labour's Rosie Duffield won a 45% share of the vote, overturning the 30-year dominance of Sir Julian Brazier to become the constituency's first Labour – and female – MP since it was formed. This was no mean feat, but with a wafer-thin majority of just 187 votes, who will be crowned the constituency's next MP is no foregone conclusion.
On Tuesday 26 November, CCCU's Politics and International Relations, in partnership with several other organisations, organised the constituency's first electoral hustings. The four candidates standing for election were invited to pitch why they wanted to be elected and faced a grilling from the audience on a range of issues, from Brexit to climate change, education to healthcare. 
Rosie Duffield's pitch focused on her local roots, her record in standing up for the city and surrounding areas (including her opposition to EU withdrawal and austerity) and holding the Conservatives to account over promises to invest in infrastructure in the area, not least the Kent and Canterbury hospital. The Conservative candidate, Anna Firth, discussed health and mental health provision in the area, transport issues and expressed her explicit support for Boris Johnson's Brexit deal and her party's record in government since 2010. Clare Malcolmson, the Liberal Democrat, set herself out as the Remain candidate, focusing on environmental issues and the Lib Dems' commitment to ringfence funding for the NHS. Michael Gould, an independent candidate, equally endorsed an anti-Brexit stance, promoted the idea of a universal allowance for all adults and advocated a cut in student numbers at universities!
Unsurprisingly, the hustings were dominated by discussion of local issues, but the topic of Brexit was not absent from the proceedings. Bucking regional trends in 2016, Canterbury was the only constituency in Kent which voted Remain, an issue which clearly chimed with pro-EU voters in the 2017 election. Yet, with only one candidate advocating Leave and the other three firmly in the Remain camp, a return victory for Rosie Duffield may yet be a challenge. Notwithstanding Duffield's popularity – including among Lib Dem, Green and even some Conservative voters – the risk of a divided vote on the remain ticket could well facilitate a Conservative victory.
As the hustings showed, next month's election is about a lot more than Brexit, but the future direction of EU withdrawal remains an overarching issue in the Canterbury campaign trail. Following the 2017 election, Canterbury was a speck of red in a sea of blue on the electoral map. Only time will tell whether Rosie Duffield will be able to repeat the feat.
Dr Paul Anderson is a Lecturer in Politics and International Relations