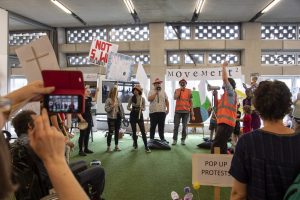 High in a tower on London's Southbank, a secret collective gathered on a grassy corner to plot insurrection – or at least, ban packaging and overturn the sugar tax. On the 29 of May, a three-day show at the Tate Modern saw PolIR @ CCCU team up again with young artists from Astor College, Dover, to try and change how we look at politics. Through a series of pop-up protests, artistic interventions and workshops the public were invited to create their own reality; given the platform to escape the trappings of Brexit and byelections and come together to talk and produce a new form of politics.
The show represents the culmination of phase 3 of CCCU's contribution to the Tate Exchange project working together with Valley's Kids, Wales as well as People United, Canterbury. The theme for this year's Tate Exchange is Movement and the project used animation and 'user-generated protests' to explore how political movements move. The young artists have been exploring how consensus and autonomy could affect their lives and developed a carnival of political art. At one table a group of young artists guided the public through the creation of thaumatropes – a disk with a different picture on each side, which combine when spun – where politicians were 'milkshaked' and Donald Trump was caught in a cage. Paints and craft materials were provided for the creation of political posters; many punters though, ignored these intentions in favour of creating their own artworks, seizing autonomy in a space usually reserved quietly looking at artworks. In the middle of this creativity the public were invited to suggest a cause for a political protest. The young people then selected one of these causes via a consensus meeting, and performed the protest.  Using music, chanting and dance they made themselves heard on a range of issues from street safety in Dover to the legitimacy of socially engaged art.
More important than the work being produced were the conversations and reflections where the inner rhythms of daily lives came together and bent to new perspectives and ideas. The traditional logic of gallery programming was cast aside to experiment with breaking out of artistic and political conventions. This was an enjoyable way to engage with some difficult topics and the young artists created a space for us to play with politics, and have fun while doing it.
The project has been developed by CCCU Director of Politics and International Relations Professor David Bates, Politics and International Relations PhD student Tom Sharkey, and the young people of Astor College, Dover, led by June Bates. The project develops work from Canterbury Christ Church University's Activism Research Network and builds on the shows Fairground (2017) and The Production of Otherness (2018) which attracted over 5,000 visitors to the gallery over the last two years. Reflecting on the success of the week project lead David Bates said:
The three years of work, in Partnership with Tate Exchange, has resulted in a a form of politically engaged practice which has changed minds and indeed changed lives. The young people we have worked in partnership with have demonstrated an ability and willingness to tackle complex political issues head on – without fear. Our evaluation shows also that the members of the public who experienced our work at the Tate Modern were very impressed. I am really proud to have had the opportunity to work with Astor College Dover, and Valleys Kids, Wales.
Tom Sharkey is a PhD Student in Politics and International Relations