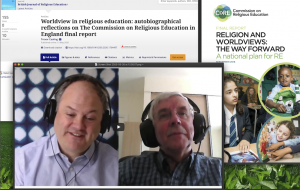 Join a conversation with Trevor Cooling hosted by Bob Bowie to explore why worldview actually matters in the RE classroom.
Wed, 24 June 2020 4:30 PM – 5:30 PM BST
NEW TICKETS AVAILABLE
There is now a lively debate about worldview in British Religious Education. There are those who suggest we should change the name of the subject and take it in a new direction. Others see it just as a matter of adding more content. Teachers, RE students, and people interested in the subject are invited to join a free webinar in which Professor Trevor Cooling shares his thinking on the future of the subject, and why worldview matters in the classroom.
Trevor Cooling is Professor of Christian Education. Trevor is also the Chair of the Religious Education Council, a multi-faith forum where national organisations with an interest in supporting and promoting religious education in schools and colleges can share matters of common concern. Bob Bowie is Professor of Religion and Worldviews Education, Director of NICER and Executive Chair of the Association of University Lecturers in Religion and Education.
Book using Eventbrite. Please note that spaces are limited. First come, first served.
The Link:
https://www.eventbrite.ca/e/what-in-the-worldview-is-going-on-in-re-tickets-106770802344
Ticket holders will be emailed a link to the webinar page 48 hours before the event.