This posting coincides with the Personal Response addressed to the ISRSA Patron and Council from Professor Trevor Cooling, Emeritus Professor at Canterbury Christ Church University to the ISRSA Report: Religions and Worldviews (Weltanschauung).
You can read Trevor Cooling's response by clicking this link here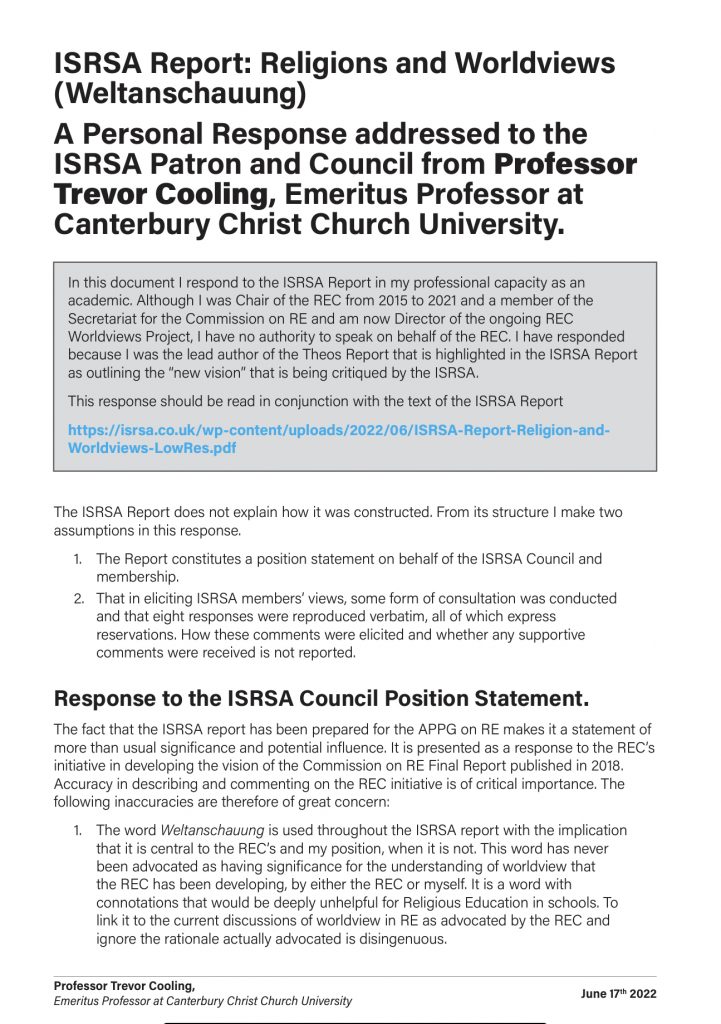 You can read the original ISRSA report here
Accompanying Statement about the public interest of good-natured debate
By Professor Robert A Bowie
The attached response by Emeritus Professor Trevor Cooling, formally Director of the National Institute for Christian Education Research, is intended to correct errors in reports given to the All-Parliamentary Group of MPS for Religious Education. The response has been published here for wider dissemination and also to assist in identifying where differences actually exist, beyond mistakes, to promote good natured dialogue and clarity. I support the need both to correct the mistakes, so that the APPG for RE is properly informed in its proper public service duty, and also the need to improve dialogue between parts of the RE professional and academic networks.
Errors circulated in publications can quickly be further cited,especially in the present fast moving information age and create impaired knowledge and lead to sub optimal communication and discernment.
When ostensible intellectual disagreements are clouded in unfortunate mischaracterisations it is difficult to make headways toward solutions. It is clear from a number of recent exchanges in publications of varying kinds that a great deal of attention is being focussed on conceptual clarification problems, where people disagree over what key words mean. This is particularly true over how colleagues define Worldview with some taking a historical philosophical approach, others a psychological approach, and others still a conceptual clarification approach where the sense of meaning is predominantly contextual.
There are also many instances of debate mischaracterisation, where significant energy is being spent responding to publications in which the ideas of authors expressed by others, do not represent answers those authors would givethemselves.
In the interest of good-natured debate, as well as sign posting this Rapid Response Point of Fact Correction written by Cooling, I am calling on colleagues and leaders in the RE professional and academic communities, to improve the representation of each other's ideas, to reach a high standard where we can agree with how we characterise each other's thinking, clearly see any difference, for instance in value hierarchy, which may exist, and therefore can correctly focus on intellectual areas of divergence where fruitful learning may take place.
Professor Robert A Bowie
Director of the National Institute for Christian Education Research
Canterbury Christ Church University
Friday 17th June 2022