Understanding helpful bystander behaviour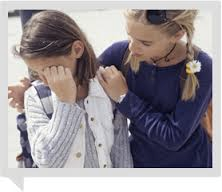 This project will test the effectiveness of Developmental Subjective Group Dynamics (DSGD) in predicting helpful bystander behaviours. This project is novel, as it will examine whether DSGD can help us to understand young people's helpful bystander behaviours. Also, this project will examine how young people evaluate others' bystander actions, during incidents of bullying (a new context for this model).  This is crucial for understanding the complex nature of group-based (e.g. ethnic group) bullying and helping in schools.
This project is being carried out by Dr Nicola Abbott (nicola.abbott@canterbury.ac.uk).