The Talk about Thoughts and Feelings Project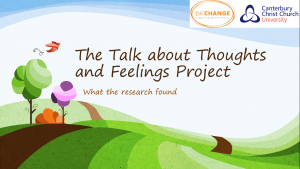 Children's conversations within the family are a primary context for social and cognitive development. In particular mothers' use of mental state talk (MST), for example talk about thoughts and feelings, in everyday conversation is related to children's emotional and behavioural adjustment and well-being (Carr, Slade, & Yuill, 2010). This type of talk is associated with a style of interaction in which the child is viewed as a psychological agent and reflects a 'mind-minded' approach to parenting (Meins, 2002).
Over the past year we  have been investigating whether mothers' use of MST can be increased after training. In partnership with Bechange, a local charity working with families, we have conducted a pilot study of parent-child pairs with children between 3 and 5 years old. We developed and tested the effectiveness of a simple non-invasive intervention which focuses mothers' attention on the emotional and cognitive dimensions of everyday social contexts.
This project is being carried out by Dr. Amanda Carr (amanda.carr@canterbury.ac.uk) and Dr. Ana Fernandez (ana.fernandez@canterbury.ac.uk).