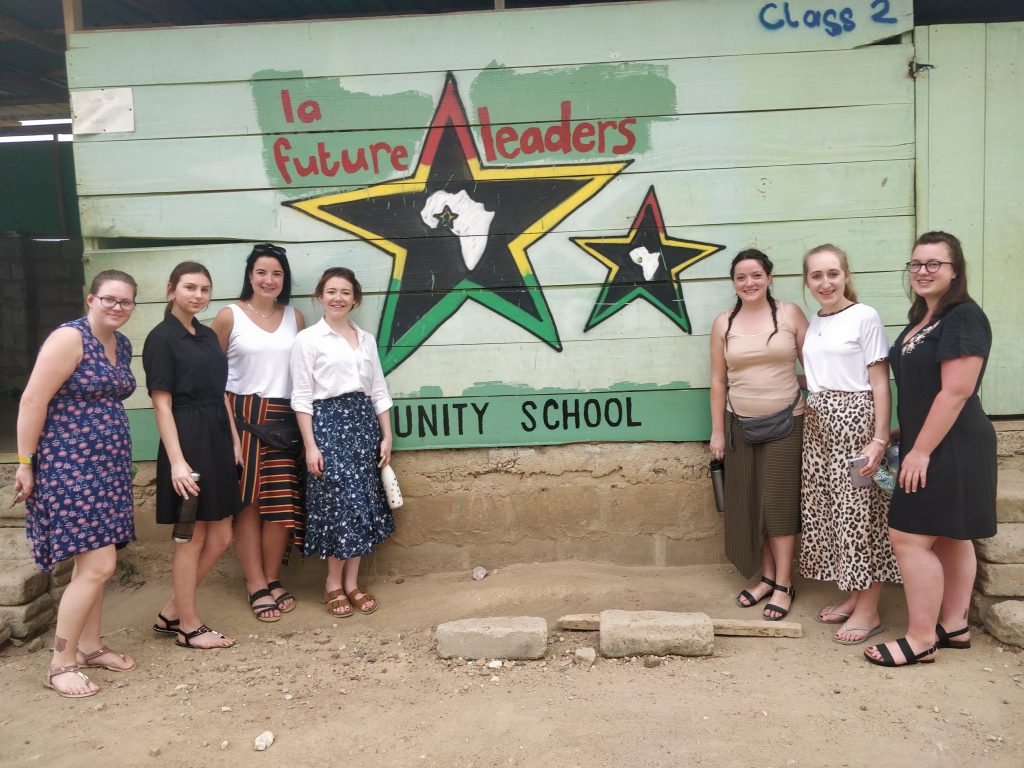 As part of Canterbury Christ Church University's BA Primary Education course, students have the option of undertaking an additional learning experience (ALE). Through this, they can broaden both their learning and teaching horizons in a new and unfamiliar setting – pushing and challenging themselves whilst going on what often turns out to be the trip of a lifetime.
Fundamentally, the ALE is a chance to teach in a different place with different contexts to that which we are used to in the UK. Whilst they are self-funded by the students who are undertaking them, Christ Church staff do as much of the arranging, insurance wrangling, safeguarding and placement organising as they can. A network of fellow teaching institutions, teachers and hosts across the world ensures that there's a huge choice of where students can go.
Current BA Primary Education students, Romana Croucher and Charlotte Butters – both of whom have worked in other industries but are now training to be teachers – have been on their own additional learning experience to the La Future Leaders school in Teshie, Ghana. Anthony Clarke, Senior Lecturer in Early Years and Primary Initial Teacher Training, is the academic who makes these student ALEs happen.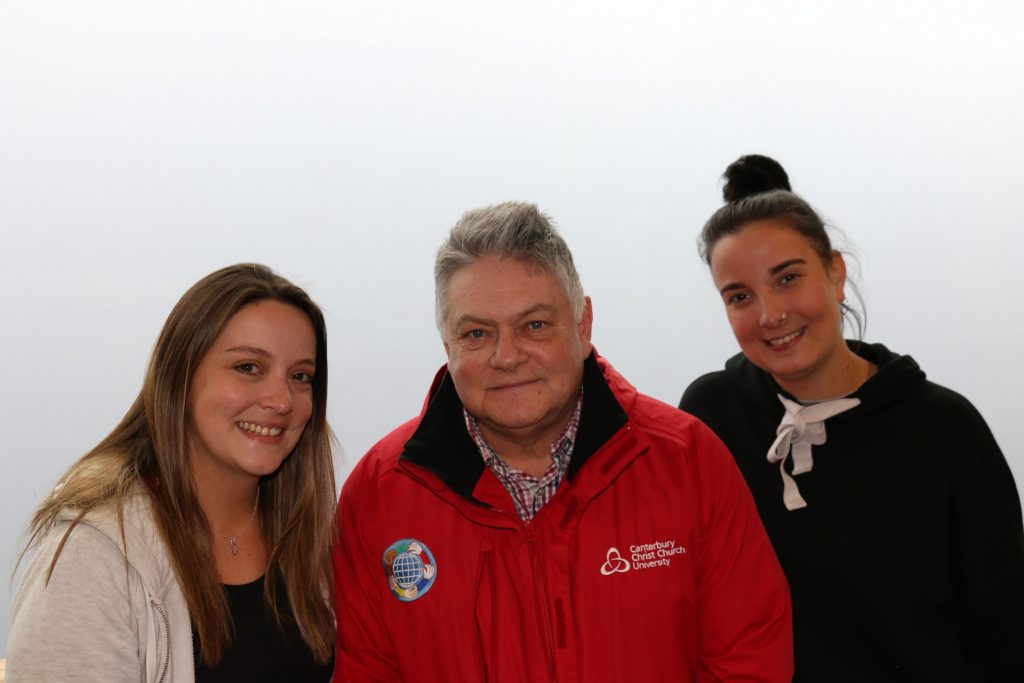 Here, they share their personal journeys and how the ALE has impacted them – and how you can benefit from such a fantastic learning opportunity!
Let's get a big question out of the way first: What are your biggest take-away experiences of teaching in Ghana?
Romana: At the La Future Leaders school and Ghanaian schools in general, the lack of resources that teachers have to work with and children have to use is in stark contrast to the UK. This lack of resources was an interesting problem to tackle, and made me use my creative thinking to come up with lessons, rather than defaulting back to the internet for resources or information with which to construct lessons. It enhanced my creativity and has taught me to rely more on myself as a teacher.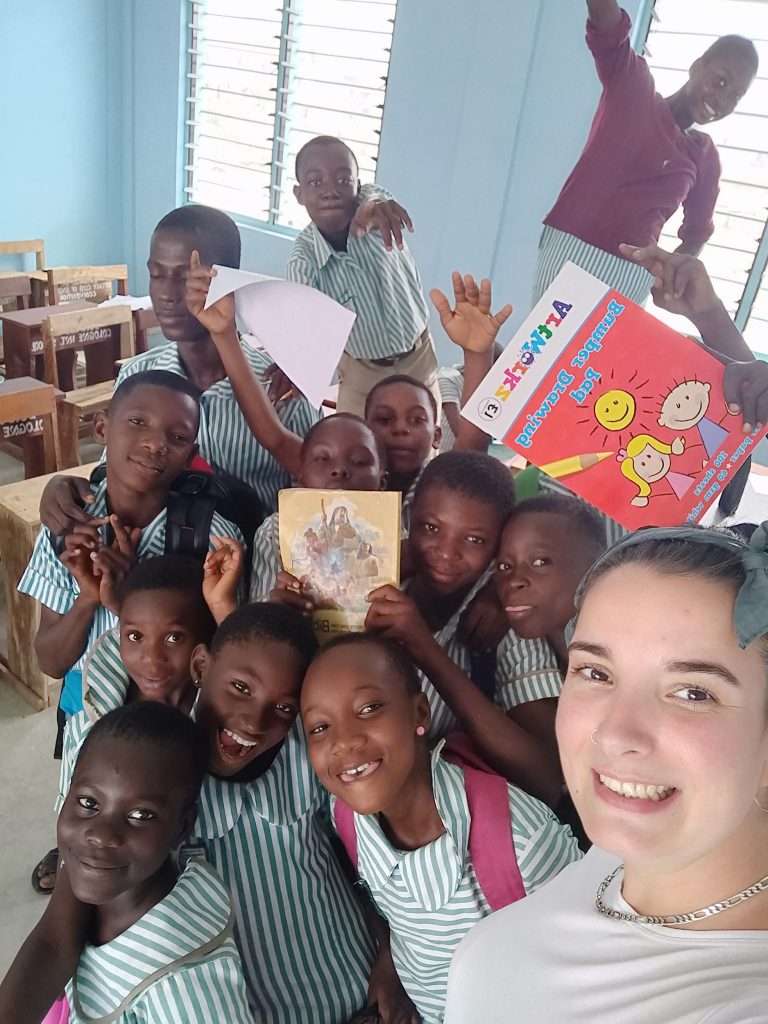 Charlotte: A better understanding of behaviour management was one of my main take-aways. In Ghana, younger children don't respond to adults or typical behaviour control measures like they do in the UK, so it taught me to work out new ways for engaging with, and controlling the classroom.
Romana: The entire trip threw us in at the deep end, but you're never going to learn to swim by holding onto the edge.
How do you think the ALE will impact and help shape you as a teaching professional?
Romana: The ALE is more than just teaching experience; it's an immersive cultural learning opportunity where you can understand cultures and different learning contexts in their entirety. There isn't enough teaching about different cultures and peoples in UK schools, but this experience will ensure we try to open up the world to children in our individual careers.
Charlotte: It was a massive confidence booster for me. I wasn't naturally confident having come from a non-teaching background, but I knew it was what I wanted to do – I just didn't know if I'd have the confidence to do it. I found the ALE to be empowering and learned that I have what it takes to succeed in the profession.
Romana: Whilst there, we realised that the teaching style was very 'old school', in that kids learned from textbooks in a rigid manner. I was given the opportunity to bring my creativeness into play, as I'm an arty person by nature. For example, we did an exercise where the kids all went outside and used things they could find in the local environment to create a big pavement collage of materials that looked like a traditional Ghanaian house. It was a bit like Neil Buchannan in Art Attack!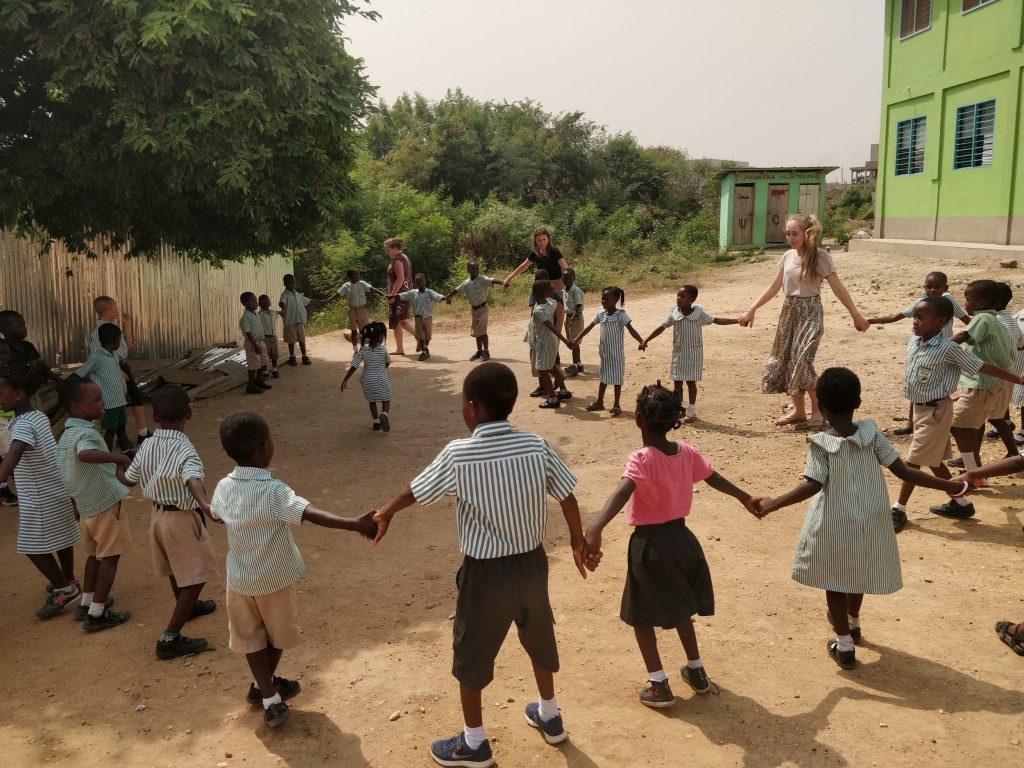 Charlotte: The teaching staff in Ghana were as interested in learning from us as we were from them. For example, with the early years children I worked with, we undertook phonics outside, again, using the environment as an additional teaching resource. This break from their usual teaching techniques helped open their eyes to new ways of doing things, so it really was a sharing experience.
Undertaking a trip like this isn't easy. How is the organisation managed?
Anthony: In all ALE locations that students want to go to, including Ghana, we (CCCU) will establish working relationships and agreements, with lots of close co-ordination, to ensure that everything that needs to be in place, is in place. All placement locations are highly engaged and active, and work hard to ensure students get the most from their time. In addition, CCCU arranges all the relevant insurance to cover students for any eventuality. I'd love to have every student attend as it's something that is so valuable to those who do go, but sadly we can't accommodate everybody.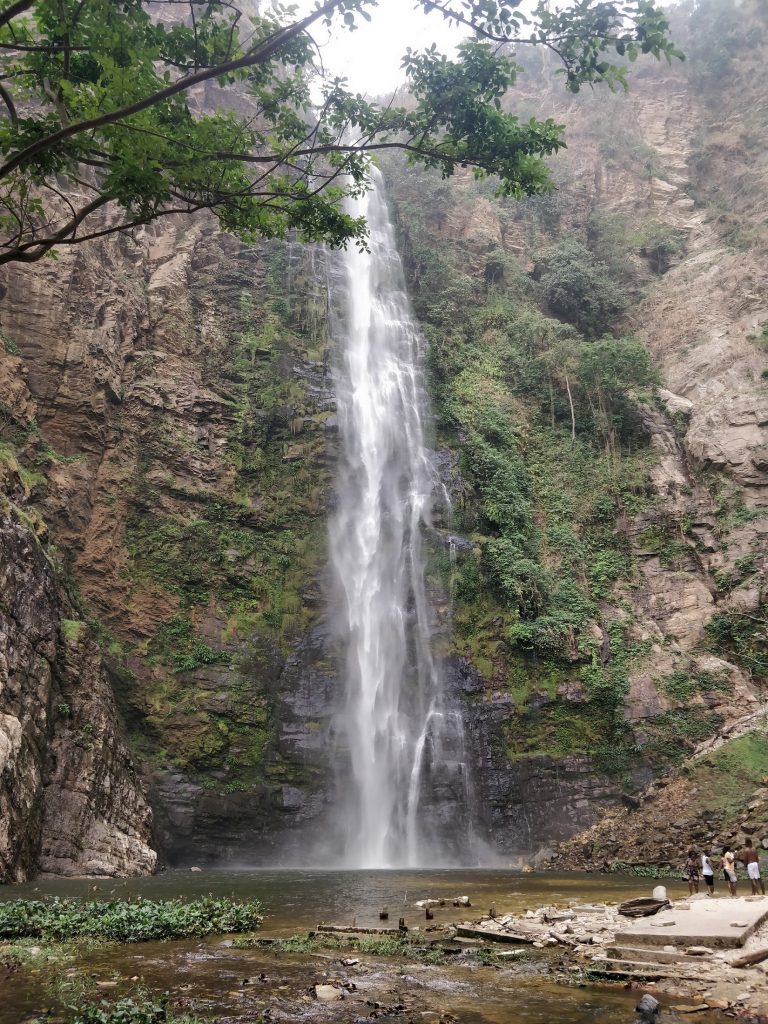 Romana: In terms of getting out to Ghana, it was pretty straightforward. There was a group going, so we ensured that we collaborated on arranging flights and other logistical tasks. Anthony was very active in helping to make arrangements alongside CCCU and the Ghanaian contacts, so all transfers and accommodation were fully sorted before we left.
Charlotte: We were very well looked after by our hosts. The food was great and plentiful, the people were welcoming and helped us experience 'true Ghanaian' culture and we never felt unsafe – even when going to the places where traditionally only locals would venture. Prior to leaving, Anthony gave us all a lecture on understanding dress codes, cultural nuances, differences in society and what not to do.
Anthony: We take an active role and from my point of view, I want to ensure that students are safe and getting a fantastic experience rather than worrying about things that we can mitigate before they travel. I speak to hosts and maintain constant contact through WhatsApp, Facebook and other comms channels throughout the trips away.
In a wider context of your BA Primary Education endeavours, what are your highlights?
Romana: Definitely the ALE! It's been hugely influential on me as a person, as a student and future teacher, and is by far the best thing I've done so far.
Charlotte: The ALE and the wider domestic placements scheme has been really good and has helped me engender in myself the confidence that I felt like I lacked previously. Both Romana and I were placed close to home, so the university really makes things as easy as possible in this way. My first placement was brilliant as the teacher I was shadowing was also the head of sports, and during sports week gave me ownership of cover while they were busy.
Anthony: The ALE is often a turning point in both a Primary Education student's confidence, and in their ability. It helps them find out the reality of education not only here, but elsewhere, and do so with an open mind and in the case of the ALE, without any formal assessment.
Romana: In my domestic placement, my love of art and using it for teaching in a creative way was embraced. I'd thought that classroom teaching might be prescriptive, but I was able to use my skills and passion a lot.
Anthony: Placements are a fantastic opportunity for our students to become ambassadors for CCCU and for the future of their profession as student teachers.
Trip highlight
For both Romana and Charlotte, a joint highlight was gathering supplies donated by friends, family and the public, which they took with them. These teaching supplies were laid out on tables in an assembly – paper, paint, writing materials, drawing materials, fake snow, and modelling clay – which many of the children and teachers had never seen before!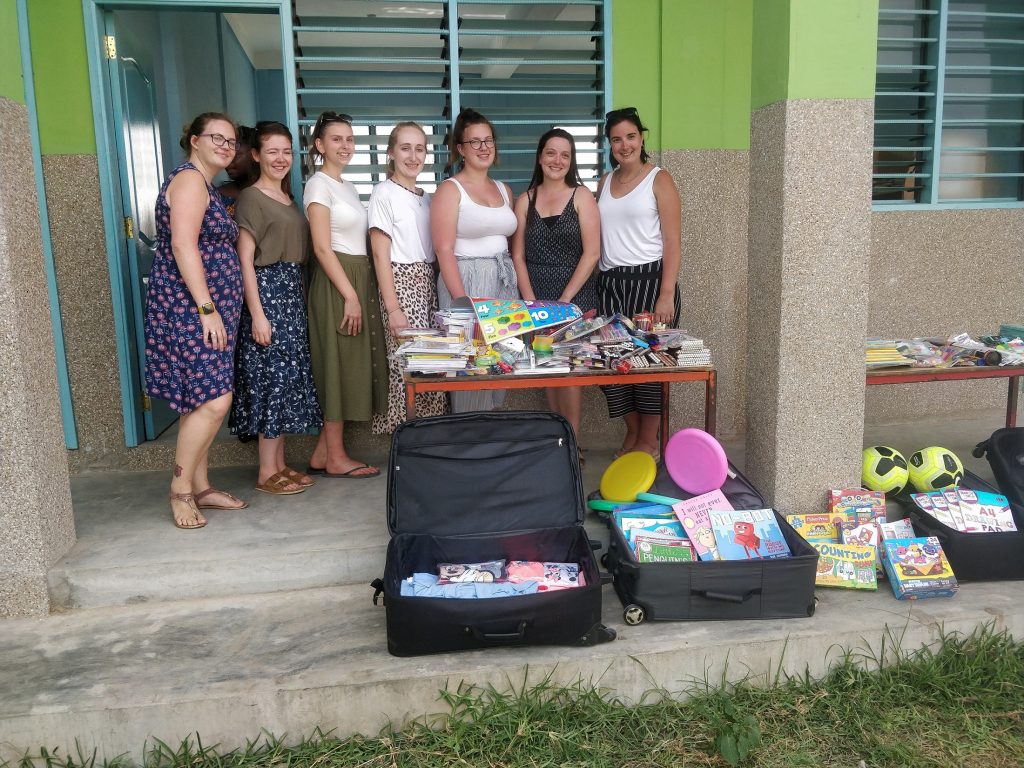 Romana is already planning her return visit to Ghana having connected so well with the teachers, children and wider group of people she met. Together with Charlotte, they are fundraising for the La Future Leaders community school to support its continuing efforts to educate children in a country where schooling isn't a guarantee.
The fundraiser can be found here, and more information about the school can be found on their website: https://la-futureleaderscommunityschool.org/
Find out more about the BA in Primary Education