On Wednesday 19 October, a dedication ceremony for Goran's Bench, one of our former colleagues, Goran Stefanovski, who very sadly passed away suddenly in 2018, was held outside the Powell Building where Goran worked.
Goran was an international figure, playwright, screenwriter, essayist, public intellectual and inspiring educator. He worked at the University in the School of Creative Arts & Industries for 16 years before his untimely death.
The Macedonian Society of Great Britian paid for the erection of the bench and the University constructed the plinth with some of Goran's writing (pictured below) alongside a Mediterranean garden space outside the Powell Building.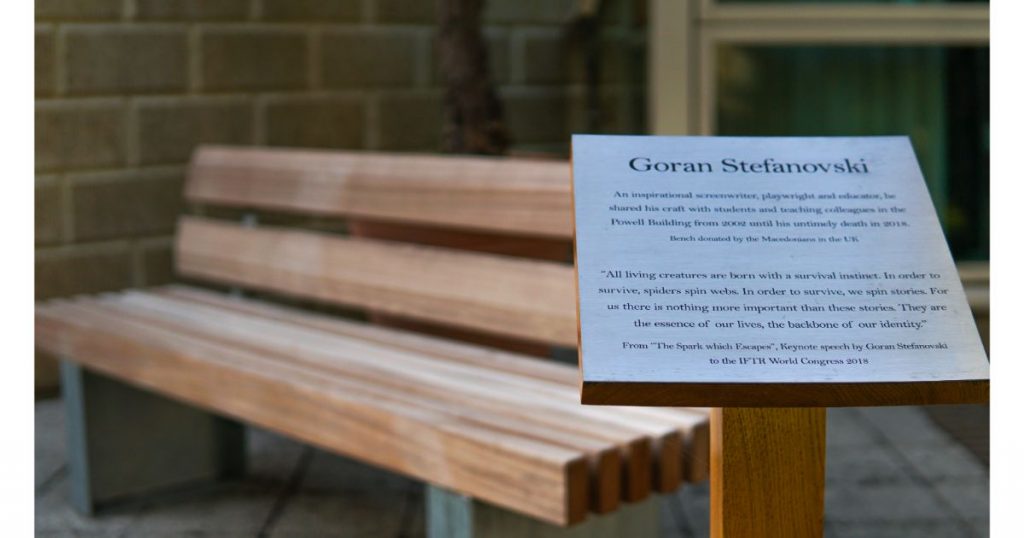 Over 50 people attended, including the Charge D'Affaires of the North Macedonian Embassy in London, representatives of the UK Macedonian society, colleagues, and friends of Goran and his wife Pat Marsh.
Pat gave a reading from Goran's work and all those gathered shared the space of contemplation and conviviality constructed in Goran's memory.