My experience as a student with dyslexia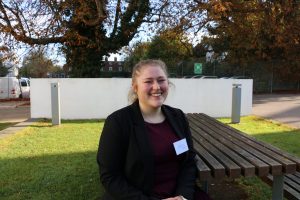 After completing a music degree at Canterbury Christ Church University, Eleanor decided to do a PGCE Secondary (Music) at the University to pursue a career in teaching. Eleanor shares her experience as a teacher training student with dyslexia.
How I got into teaching
I heard about getting into teaching when I was doing my undergraduate degree. Emily Sayers and Vanessa Young came into our lectures to talk about teaching music, so I started to think about it.
I always wanted to teach but was told at school that I wouldn't be able to do anything with my life. I'm dyslexic and was told I was stupid and lazy. I decided that I wanted to become a teacher to encourage children who struggle with academia and to say to them you can do it, you're not stupid, you just need a little bit of help.
My PGCE study so far
I really like the physical side of curriculum studies sessions. With music everyone is doing something, there isn't a single lesson that doesn't involve singing, dancing or playing. We take it in turns to run a half hour mini-lesson. One lesson we took our shoes and socks off and learnt to walk, we were moving in time together and getting a sense of each other and doing clapping rhythms. We're able to take these activities into school and use them with the kids.
Support at Christ Church
It's not just the support you get from the staff but you also get a lot of support from your peers. Someone might have heard something in a school that gets passed on that you can use in your own teaching and your own life. I always come out of a lecture feeling happier and more physically well.
My future career
Eventually I want to be a special educational needs adviser or co-coordinator, so my course will help me understand about children and how they learn. I want to be teaching for the rest of my life and to help children who may not get help anywhere else.
I think it's important that every child is supported, it's just as important to encourage high ability children as it is low ability children.  High ability children also need to see that support is available and doing the PGCE will give me ways to support them. I've already learnt so many behavioural techniques, behaviour management is such a complex thing.
My advice for anyone with dyslexia wanting to become a teacher
Don't let anyone stop you! I think dyslexic music teachers make good teachers because they can see it from the view of children who find it difficult to learn. They find it easier to adapt lessons to suit these children.
My top tips for future PGCE students
I would tell any student who is considering teacher training to do their research, do the right subject and be organised.  Organisation is the biggest thing when you train to be a teacher.
I've been able to continue to play in ensembles because I have been organised with my time. I'm very aware that I need to be organised especially because I'm dyslexic, it can be hard but you can do it.
There are a lot of kids that don't have anything they are proud of.  When you're teaching these kids, you've got to realise they haven't had the chances you had but you can bring your experience into the classroom.
It's important to show that if you're not academically able or sporty, there is another option for you. Being a teacher, you can find another way and help them find out what they are good at. It's rewarding as you get to see that kid who is told they're not academic succeed in what they're doing.
Postgraduate Routes into Teaching Open Day
Discover our wide range of postgraduate teacher training courses at our next Open Day on Saturday 13 October from 10am to 2pm at Augustine House, Canterbury.
Whether you are a graduate or thinking about changing your career we can help you find the best route to become a teacher.
Find out more and book your place.
You can view our range of courses in early years, primary, secondary and further education.