Celebrating our award winning teachers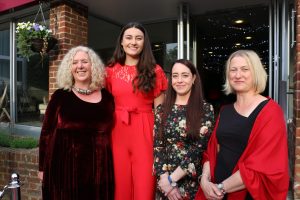 The Faculty of Education is really proud of our KM Charity Teacher of the Year Award winners.  This year saw a huge number of Faculty alumni winners.
Adela Granger, pictured above right with her PGCE tutor, Justine Earl, won the overall Kent NQT of the Year Award.  Adela completed her PGCE Part-Time at Canterbury Christ Church University in 2016 and is an NQT at St Anthony's School in Margate.
Adela said she was inspired to become a teacher because she loves working with children and wanted to make their education experience positive and enjoyable. Adela told us of her love of teaching: "Having worked in a school before I trained to become a teacher, I have always loved how each day is completely different, presenting a range of challenges but also rewarding. I have always enjoyed the challenges that come with working in a school and love how enthusiastic the children are! Working with children with SEN, I aim to help them develop and  improve their levels of self-esteem and confidence and provide them with opportunities to achieve."
Abby Turner, second left, completed the BA Primary Education in 2017, won the NQT of the Year for the Canterbury area.  Abby was presented her award by Tracy Parvin who taught her both in primary school and then on the BA Primary Education course.
Other Canterbury Christ Church winners were:
Colin Taylor who won overall Kent Primary Teacher of the Year. (GTP, 2012)
Tim Jackson who won overall Kent ICT Teacher of the Year (Advanced Cert Education (Post Comp))
Clive Soord, The Gulbenkian Theatre Arts Award for Inspiring Creativity and Innovation and Canterbury Group Technical/Vocational Teacher of the Year Awards (Advanced Certificate of Education (Post Comp), 1998)
Stella Martin, Overall Kent Literacy Team of the Year and West Kent Group Primary School Teacher of the Year (PG 11-18, 1991)
Aliza Goren, Tonbridge & Malling Group Secondary School Teacher of the Year (PG 11-18, 2016)
Nicholas Leggat, Ashford Group Sport Teacher of the Year (BA Education Science, 1993)
Ross Butler, Dartford and Gravesham Group Secondary School Teacher of the Year for Gravesham (PG 11-18, 2013)
Louise Friend, Dover Group Primary School Teacher of the Year (PGCE FT, 2007)
Kim Howes, Maidstone Group Higher Education Teacher of the Year (Advanced Certificate of Education (Post Comp), 2003)
Mark Heaton, Maidstone Group Secondary School Teacher of the Year (PG 11-18, 2013)
Karin Tillett, Medway Group Deputy Head Teacher of the Year (BA Primary Ed, 2000)
Paul Cross, Medway Head Teacher of the Year (PG FT, 2014)
Brice Dempster, Shepway Primary School Teacher of the Year (PG FT, 2014)
Kavan Risby, Shepway Sports Teacher of the Year (School Direct, 2014)
Stephen James, Shepway Maths Teacher of the Year (BA Primary, 2013)
Scott Tift, Thanet Primary School Teacher of the Year (FD Physical Education)
Patrick Burns, Swale Primary School Teacher of the Year (PG FT, 2015)