Nicole Pepper is a Football Sport Scholar and PGCE Secondary Education student who was recently selected to represent English Universities in the Home Nations tournament held in Cardiff. Last year's University, Elite Scholar of the Year gives us an insight into her experience playing for her country.
A long drive to Cardiff was made worth it when I found out the news I was going to be a captain. Something that I only wished would happen in the lead up to the event. To say I was pleased to be named as one was an understatement.
I was feeling physically and mentally exhausted…

Having played 90 minutes for Crystal Palace on the Sunday (the day of travel), I was feeling physically and mentally exhausted. With training set for Monday, I knew I needed to get to the hotel and get a good night's sleep in preparation for the day ahead. Luckily, that is just what I managed to do. The first night I stayed with my parents, who came all the way to support me. When the morning came, it was a quick check-out of my room and then ready to travel to the next hotel.
As I waited in the foyer, some of the girls started to arrive. At first I didn't recognise anyone having played for English Universities last year. But eventually, I spotted Anne, who I played with at Chelsea and Sasha, who was at Watford at the same time as me. I had a quick catch up with them before we were called into the meeting room to begin the week.
From then on in, the environment and standards were set. We created our own rules for the week, such as committing to always being 5 minutes early to everything! (This lasted the week but there were some who forgot). We then were able to discuss how we wanted to play both in and out of possession, this gave us the ability to all have an input into what we wanted our team to look like come Wednesday when we were due to play Scotland. Once we decided this, it was a quick check in to the rooms to drop our bags off then we went straight to the University of South Wales to train.
My first impressions upon arrival at the University were that the facilities were outstanding! It was like being at a smaller version of St George's Park. It is the former training venue of Premier League club Cardiff City. Monday's session was a light session just to get our legs going on the 3G pitch and get rid of any niggles from the weekend. The structure of training was amazing! We had a strength and conditioning coach who led a thorough warm up, a GK coach, a physio, a coach and a manager all supporting the session delivery. We completed activation activities during the warm up with resistance bands, did some fast paced agility work before moving onto the technical football activities. After the 2 hour session we headed back to the hotel and we had the choice of recovering in the pool or foam rolling.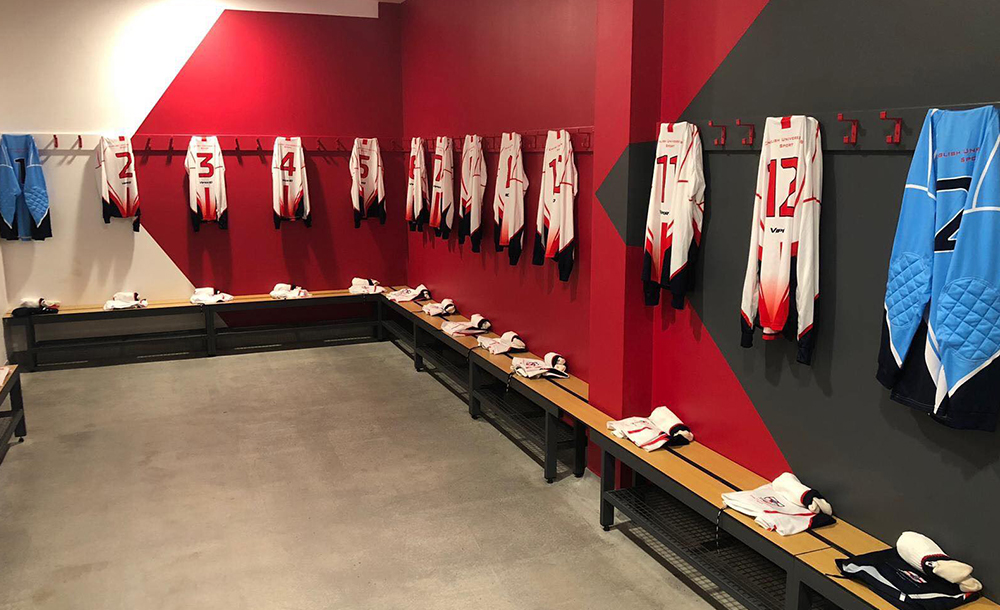 We then had a little bit of down time to get showered etc and ready for dinner, where we were served a selection of different food in a buffet style. Before bed, we had a team meeting to discuss the next day followed by a team social where we were split into teams and had various challenges to complete.
Tuesday was very similar to Monday, however we had two sessions. The morning session was a heavier load than the afternoon given that we were playing on Wednesday but both sessions had a high tempo and we were able to get lots from both sessions. The afternoon session started a bit lighter with us walking through the set pieces that we had created and then we finished with some unit work. Again we then went back to the hotel to recover, eat, and socialise.
we would have smashed it more so than we did!
On Wednesday we faced Scotland and Thursday was Wales. We were the better team in both games but on the Wednesday just couldn't find that finishing touch to put us in front and lost 1-0! However on the Thursday against Wales we certainly made up for this winning 6-0! We all said that if we had the opportunity to play together in some friendly matches before the tournament we would have smashed it more so than we did! Both games were a fantastic experience to be a part of and I relished every moment I was on the pitch with the girls!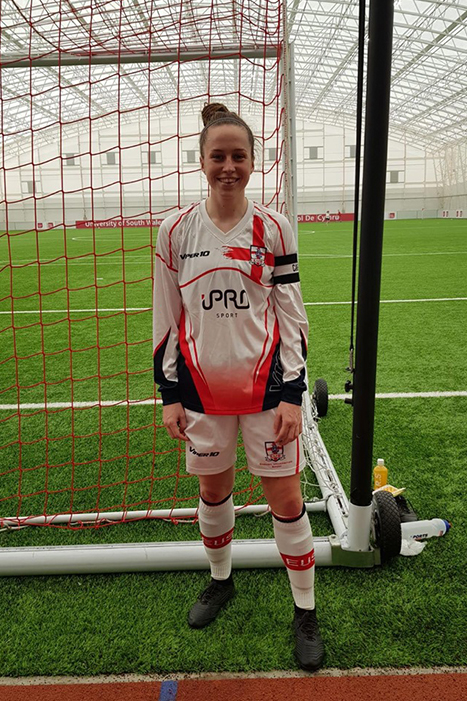 I am so grateful to have been given the opportunity to represent the English Universities and Christ Church. I feel that I can now finish my studies and leave on a high note! A massive thank you to everyone who made this journey possible for me.