A student brand influencer at Canterbury Christ Church University will represent your business on campus, showcasing your organisations' opportunities, products, and services. They will enable you to market your business in an authentic way through peer-to-peer promotion, enabling you to reach over 17,000 students, increasing brand awareness, and creating a narrative to meet your business objectives.
Depending on your business need, some benefits include, but are not limited to…
Marketing your service or product to the student population.
Developing a pathway for you to recruit students and graduates.
Expanding relationships within the University to create further business opportunities.
Building connections with your target audience in a cost-effective way.
Strengthening brand visibility and credibility.
Toby Lucas-Smith, Enterprise and Engagement Manager and Unitemps Branch Manager at Canterbury Christ Church University said:
"Student brand influencers can support businesses with targeted campaigns to increase brand awareness, gain new customers, and streamline student and graduate recruitment. We believe the scheme will be a remarkable success, providing organisations with a way to engage their audience, work with Canterbury Christ Church University, and provide fantastic opportunities for students."
What is included in the scheme?
There are 3 different packages available to accommodate your business needs and budget: Bronze, Silver and Gold.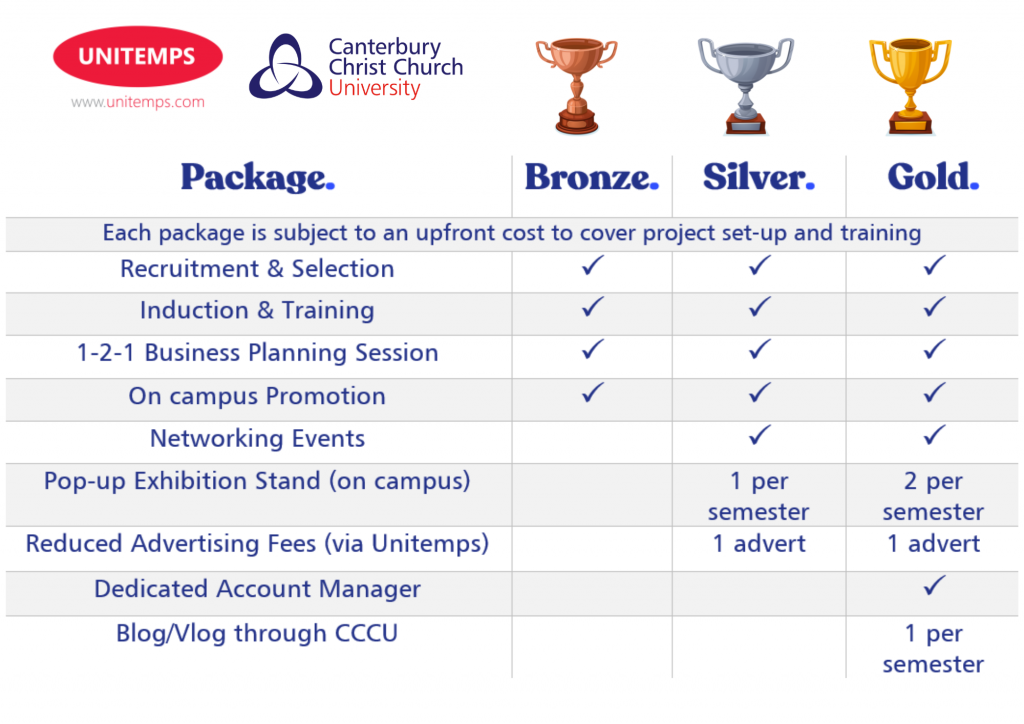 Brand influencers are becoming increasingly popular due to the organic relationship they create with consumers. Often, trust between consumers and brands is developed over a prolonged period, but as this scheme is based on a student influencer model, you can engage and impact your audience quickly.
You will be able to directly connect with your target market whilst being agile in your approach, further accelerating your business goals and strategy. Given the University's reach, it is a perfect low-cost marketing tool for relevant local businesses to utilise. 

If you or your organisation is interested in hiring a student brand influencer, please contact, unitemps@canterbury.ac.uk