We are nearly at the end of our Diamond Jubilee year. To celebrate 60 years as an educational institution, the University has hosted a number of events, community engagement activities, and much more.
As a University, we recognise the role that the local business community has played in our journey and are proud to be deeply rooted in Kent and Medway.  With this in mind, the Enterprise and Engagement department have hosted seasonal Netwalking Club events, an active alternative to traditional indoor business networking.

Three key benefits of netwalking:
1. Encourages like-minded colleagues from the business community to gather together outside of usual work environments
2. Offers the opportunity to see new things, facilities, and green spaces
3. A change in setting can prompt different kinds of conversations, often leading to the development of new relationships.
Testimonials from walk 3
In early September, we hosted our penultimate Netwalking Club event. Having invited colleagues and members of the local business community to partake in hop picking, the morning was themed around 'starting anew' ready for Autumn and harvest season.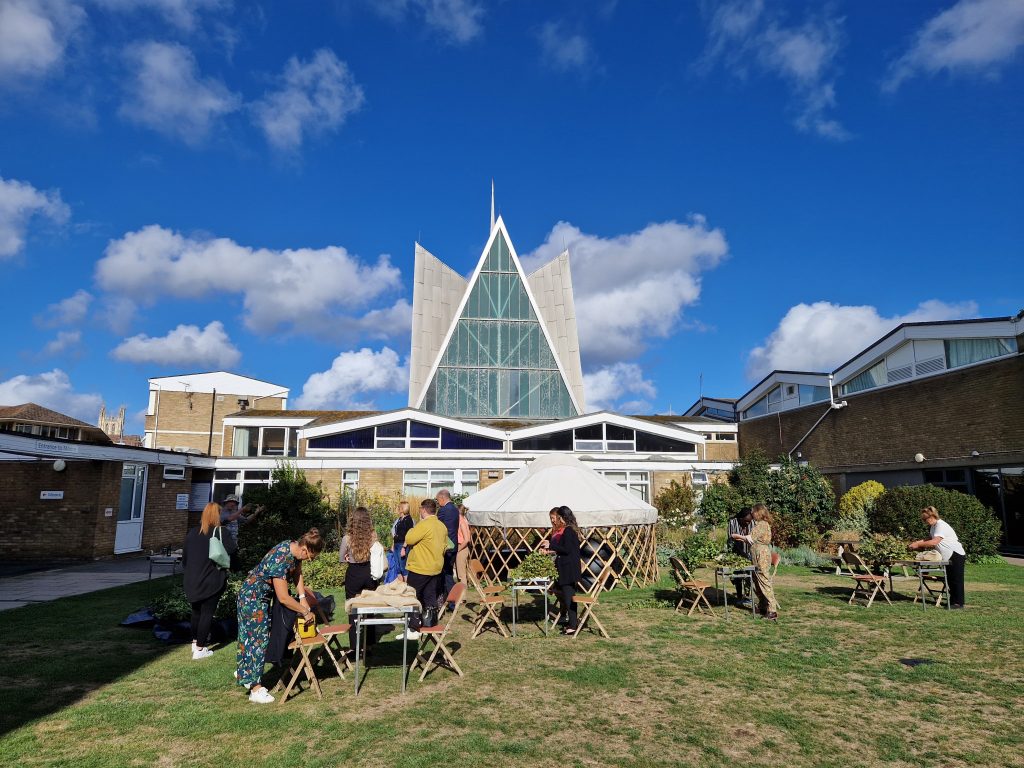 The morning involved making new connections, networking, and learning more about how we make our homegrown, Green Hops Ale.  Concluding the walk with a self-guided tour of St. Augustine's Abbey before walking to the Foundry in Canterbury City centre for a free beer, fellow netwalkers commented on how much they enjoyed the fruitful conversation and relaxed environment.

Lisa Carlson, CEO Canterbury Business Improvement District said:
"The netwalking event was absolutely brilliant, green hop beer is so important to Canterbury, it is something I wanted to know about for a long time. So, to be able to come along and pick the hops and have some really relaxed conversations, and then to go to the Abbey and the Foundry and witness the making of green hop beer, was really special. A good way to get people together."

Deborah Geering, Partner at Furley Page Solicitors said:
"The whole experience was fascinating. I have been in Canterbury for 20 years and a lot of the stuff I learned during the event I didn't know, so it has been enlightening. I had never been into the Abbey, and the staff that showed us how to pick the hops made it really interesting. I feel that I know a lot more now than I did. I recommend anybody doing a brewery tour or go to the Abbey."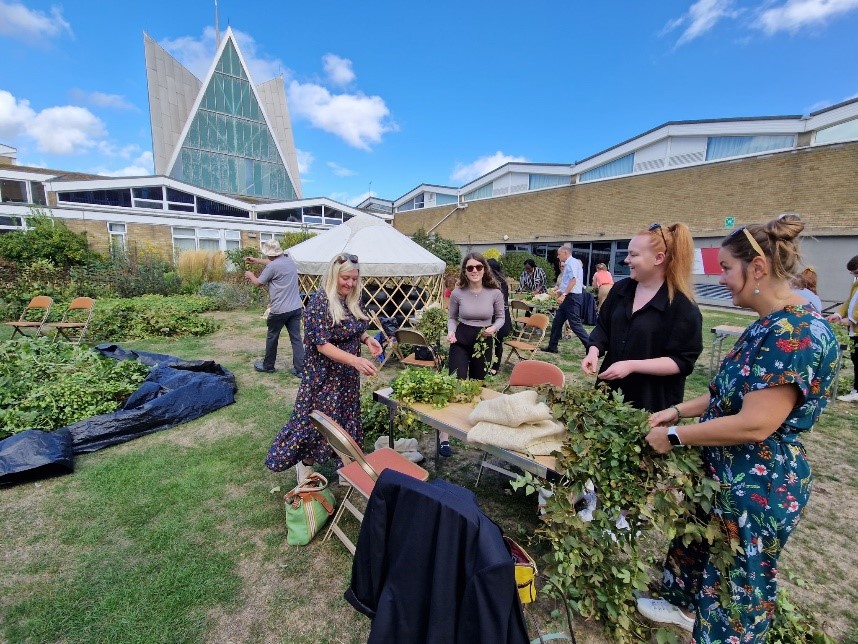 What's next?
If you have not been able to attend our Netwalking events so far or would like to attend another, rest assured, we have our fourth and final Netwalking Club event in December. The theme for this month is inevitably Christmas. 
Netwalking 4 details
Our fourth Netwalking event takes place on Friday 2nd December, this time with a festive and literary theme and delivered in partnership with Kent Cricket.
Led by colleagues from the Department of Enterprise and Engagement at Canterbury Christ Church University (CCCU) and Professor Carolyn Oulton, Director of the International Centre for Victorian Women Writers, we will be winding our way from the famous Sun Hotel, through Canterbury City Centre and up the Old Dover Road to the Oriole at the Lime Tree café, at Kent County Cricket Ground, where we will have Christmas carols courtesy of CCCU Music and a further opportunity for networking over freshly baked mince pies and festive drinks.
When and where?
Start point: The Sun Hotel, 7-8 Sun Street, Canterbury CT1 2HX
Date and time: Friday 2nd December
Departure time: 12 noon
Finish time: 1.45 – 2.00 pm
How to book?
Book your ticket via Eventbrite here
The route
Our walk time will be approximately 40 minutes, which includes some stops at points along the way and there will be plenty of opportunity to network whilst you walk. The locations are wheelchair accessible although please note that along the route there are some inclines, including an underpass and some uneven pavement on the Old Dover Road.
Please wear suitable attire for the time of year and activity, as the event will go ahead unless there is inclement weather. The event will end at 1.45 pm to 2 pm at the Oriole at the Lime Tree café at Kent County Cricket Ground.
Parking
We have a different start and finish point so you may wish to consider where to park. To be close to the start point, there are several car parks available in Canterbury city centre, which is approximately 16-20 minutes' walk from Kent Cricket. The New Dover Road Park and Ride will take you into the city centre, close to our start point and then an 18 minutes' walk from Kent Cricket or you can catch the bus from New Dover Road.
You are welcome to park your car at Kent Cricket ground by Floodlight 4 and then walk to the starting point, approximately a 22 minutes' walk.
If you have any questions, please contact us at: b2b@canterbury.ac.uk with DECEMBER NETWALKING  in the subject field.