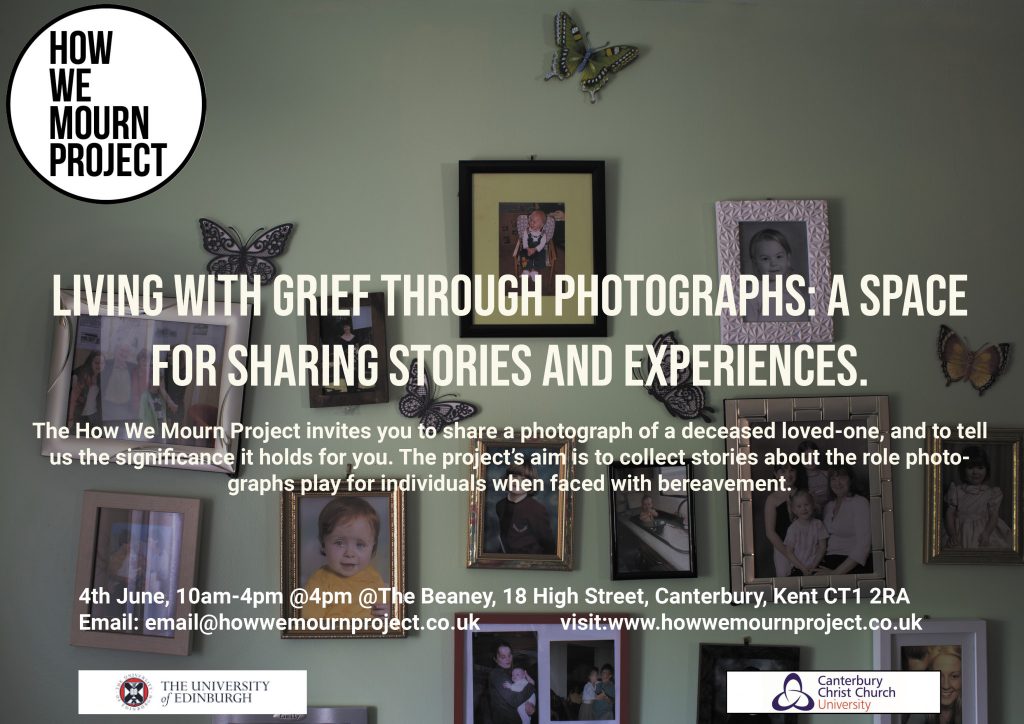 Do you keep a particular photograph of a loved one who has passed away close to you? What is its story and how do you look after it?
Perhaps a photograph lives in a pocket or wallet and travels around with you, or sits framed on a mantlepiece? Perhaps it is on your phone, or as a tattooed image on your body? Which image did you select for your loved-one's Order of Service and why?
The How We Mourn Project invites you to share a photograph of a deceased loved-one, and to tell us a little about the significance it holds for you. The project's aim is to collect stories about the role photographs play for individuals when faced with bereavement.
The workshop provides a safe and friendly space in which to share a photograph of a loved one. We can help make a copy of your significant photograph if you wish. The How We Mourn Project warmly invites you to book a slot or simply drop in to share your stories over a cup of tea and biscuit!
You can find out more about the project and book your place here.
If you would like to contact the project team, you can reach them at email@howwemournproject.co.uk.
---
The workshop will take place on June 4th, from 10:00 – 16:00 at The Beaney House of Art and Knowledge (18 High Street, Canterbury, CT1 2RA).
---
The How We Mourn Project forms part of a social research initiative co-funded by Canterbury Christ Church University and the University of Edinburgh to explore the many and varied ways photographs help us continue our bonds with the dead.