The Daphne Oram Gallery is pleased to present Jo Townshend: RE-MAKING FUTURES Material Methodologies for (Education) Leadership. The exhibition will run from January 27 – February 24. All are welcome!
This exhibition is the culmination of Townshend's practice-based PhD. Her material research re-makes alternative futures of education through a series of leadership methodologies.  An assemblage of arts methods and media are set to work materially and immaterially in producing dynamic tools to innovate systems and structures and to think critically about post-pandemic education.  From collages of appropriated media, printmaking, installations and digital transformations, to leadership gamifications, this exhibition curates the spaces to collectively re-make lively, equitable and sustainable modes for education.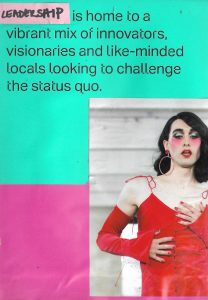 The exhibition is open to the public from Mon – Fri 10:00 – 16:00 or by appointment.
Alongside the exhibition, we invite you to a reception on 4th February, 1400 – 1600, where there will be an opportunity to meet Jo and discuss her work.
---
The Daphne Oram Gallery is located in the Daphne Oram Building for Creative Arts on Canterbury Christ Church University's Canterbury campus. The gallery's exhibition programme is informed by the teaching and research of the University and showcases new works by contemporary artists, CCCU staff, and students. You can find the building by using the interactive map here.