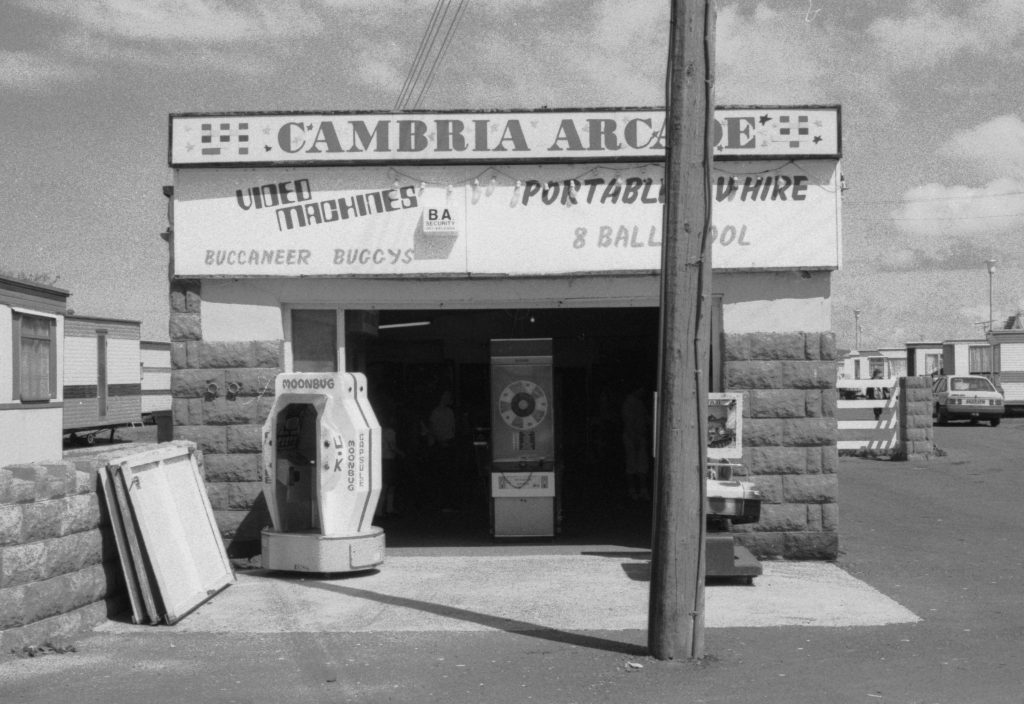 Like many children growing up in the 1960s and 1970s, I spent my holidays at the British seaside. More recently this has been termed a 'staycation', perhaps a reflection of the current state of domestic tourism. For me and my family, this term is apt as we owned static caravans – home away from home. Our caravans were on the Cambria caravan site in Towyn, North Wales. One of the pictures in this exhibition shows the camp's amusement arcade. This was a small garage-like space with old-fashioned slot machines. Like many other arcades, this is where you either spent the coins that you already had in your pocket or you had to ask for 'change' at a booth.
More grand was the Black Cat amusement arcade in Towyn itself. This was a truly cavernous space that had a wide range of attractions. My favourite memory as a child was a glass-cased slot machine containing a group of toy monkeys that when you inserted a coin would come to life to dance to the song 'Bits & Pieces' by The Dave Clark Five.
Amusement arcades lined the seafront of the seaside towns. Rhyl mirrored Blackpool with a stretch of gift shops and arcades that were stretched out from the centre of town to the Ocean Beach fairground. At Blackpool this thoroughfare is the famed 'Golden Mile' – roughly the distance between the iconic Tower and the Pleasure Beach fairground. Over many years I have trod this mile and tried to record the sights. Unlike many resorts, Blackpool continued to be a dynamic place that offered change and refused to age gracefully. In this town, any space became a potential gold mine for amusement and profit. The amusement arcades at Blackpool were large and noisy, all attempting to draw you in. It is more difficult to have specific memories of any arcade in particular as each seemed to melt into the next. It seems that Blackpool grasped the essence of a staycation early on. A holiday in this town can be brief – just a day – and then you move on. All change for more 'change' might be the town's motto.
Stephen Clarke
February 2023
Stephen Clarke is a photographer and Lecturer in Critical and Contextual Studies at the University of Chester and is exhibiting his photographs as part of the Arcade Britannia exhibition in the Daphne Oram gallery. The exhibition runs from 6 March – 21 April Monday – Friday 1000 – 1600 and all are welcome!
Read more about Arcade Britannia here.
Alongside the exhibition, we invite you to the finale on 22nd April, 1400 – 1600, where there will be an opportunity to meet the photographers, have a drink and discuss their work. Book your place here.
The Daphne Oram Gallery is located in the Daphne Oram Building for Creative Arts on Canterbury Christ Church University's Canterbury campus. The gallery's exhibition programme is informed by the teaching and research of the University and showcases new works by contemporary artists, CCCU staff, and students. You can find the building by using the interactive map here.