by Saba Khan
Artist Saba Khan, currently exhibiting in Glacial Movements and the Ghaib at the Daphne Oram gallery, offers her insight into the region on which her artwork has been researched and influenced by.
The area of our fieldwork Gilgit Baltistan (GB) is one with Hindukush, Karakorum and the Himalayas. These were isolated valleys until the Karakoram Highway was built in the 1960s. Anthropologist James Scott describes these regions as Zomia, remote mountains of people who choose not to be governed and are also called "the shatter societies". Each isolated village has developed its own linguistics and culture. Historically this was an area where people sought refuge from enforcement of the state power. "Ghair" or "ghaib", the unknown and the unseen, the hidden, are often related to these spaces. The Gilgit Baltistan area also holds myths of fairies, shamans and folklore that are in the realm of the ghaib or the unseen. Ibex deer roam at high altitudes, while night skies reveal constellations unseen by urban eyes.
In recent years the district of Ghizer has had the most glacial bursts in the region. With the cracking of glacier ice and slow movement of icy water submerging entire towns, many have been left internally displaced and stuck in a space of liminality. These small populations do not have the means to self-organize their lost infrastructures in re-located spaces. Living in tiny shacks they are oppressed by the harsh climate. They are unable to return to their agrarian lifestyles and cannot afford livestock. Daily rituals and forms of care of the land are lost leading to high stress and cases of anxiety and hopelessness in the region.
A Glacial Lake Outburst Flood (GLOF) in Hunza submerged an entire town of Attabad, while the water veils and conceals the towns, bodies and crops of people, it is also utilized as a tourist spot with jet skis and luxury hotels. Traffic jams that extend for miles and contribute to air pollution are often common in peak tourist season. Domestic tourism has brought prosperity to the region but in the long run it might make these regions uninhabitable. The drying glaciers will affect lower riparian societies that are dependent on waters from the north. The area is home to 5000 glaciers, most of which are not documented and are unseen on google maps or other resources.
However, there are eco-conscious organisations such as Mountain Story in Aliabad and Gulkin, who use solar power and sustainable building methods to provide accommodation which has a reduced impact on the environment. Mountain Story is a female-led organisation, pioneered by Asma Haider.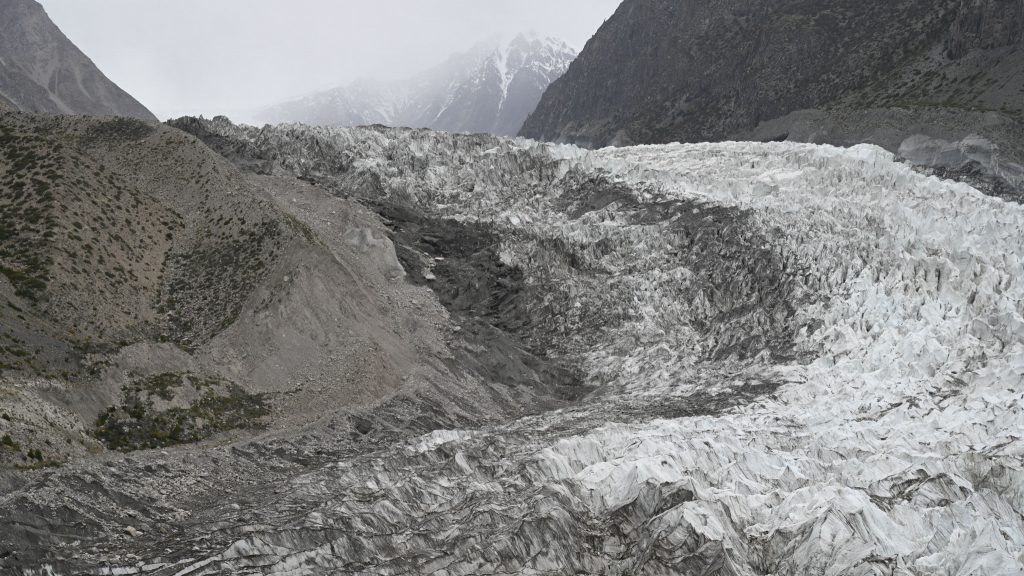 Exhibition runs: Monday 18 September 2023 – Tuesday 9 January 2024 Opening hours: Monday – Friday, 10am – 4pm Closed for Christmas: Friday 22 December to Friday 5 January
To find out more about the exhibition head here: New show: Glacial Movements and the Ghaib – Arts and culture (canterbury.ac.uk)