Work based learning at Canterbury Christ Church University- a collaborative approach to a business challenge.
The Story of Success Series is brought to you by the Enterprise and Engagement Team at Canterbury Christ Church University to provide information and insights into the support available to local businesses and entrepreneurs.
Your organisation can recruit our talented students and graduates, commission research or consultancy to drive your business goals, hire our specialist facilities or event spaces, or collaborate with us to grow your business.
Work-based learning (WBL) refers activities and assignments that use the context of work to develop a student's knowledge, skills and understanding – including learning through the experience of work…
Here at Canterbury Christ Church University, we find that there is unparalleled benefit for both the student and business when collaborating in this way. We have a variety of courses which have WBL embedded into their curriculum. This article will discuss the experience from the perspective of both the students and businesses who took part in these activities and why it is beneficial to all involved.
Every year, our 'Media & Communications' and 'Public Relations & Media' students create and deliver a Dragons' Den style pitch to local businesses. By design, the module aims to expose students to the end-to-end process, from conceptualising and capturing a brief, through to delivery.
We asked Sarah O'Hara, Senior Lecturer in the School of Creative Arts & Industries, about the module design and the benefit of students working directly with businesses:
'The module is designed to embed these skills and over the years we have worked with numerous companies, charities, and organisations on similar projects. We deliberately get the students to work with clients directly, so they develop transferable skills. It has been very successful in the past with students going on to set up as agencies themselves, or going on to work with the clients on freelance projects. The students need to develop active listening skills, manage their workloads and the client communication themselves and ultimately pitch the final idea.'
The Pitches –
In this year's project, students from both courses, were given a creative brief by Kent Wildlife Trust which involved designing material to encourage species reintroduction. Other students were given a brief based around branding and design from Valconia, a new start-up risk management consultancy and recruitment firm, who have a strong focus on sustainability with the aim of producing a healthier, happier and fairer world. The students were split into respective groups and collaboratively designed a pitch, ready for delivery.
Every year, the academics within the faculty encourage the collaboration to be student led. This is because the task encourages students to interpret a brief directly from the source and ask the relevant questions to the external (acting client) to reflect industry standards.
'The professionalism, standard of work and breadth of ideas was impressive. Plus gaining insight from people at the start of their careers brings a different, and very valuable, perspective. ' – Valconia
Some examples of the virtual presentation material used in the pitch are below: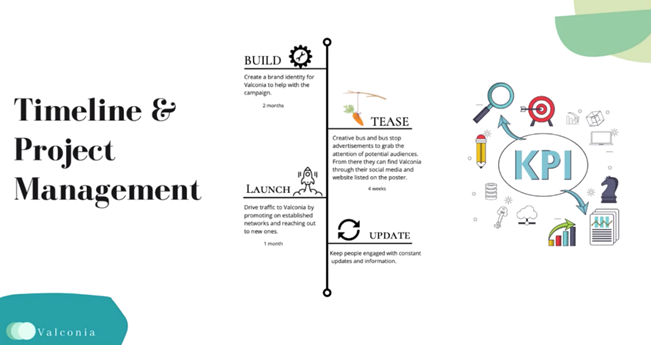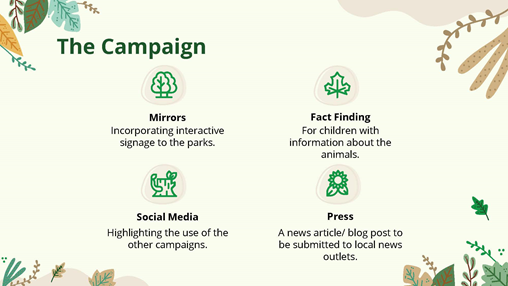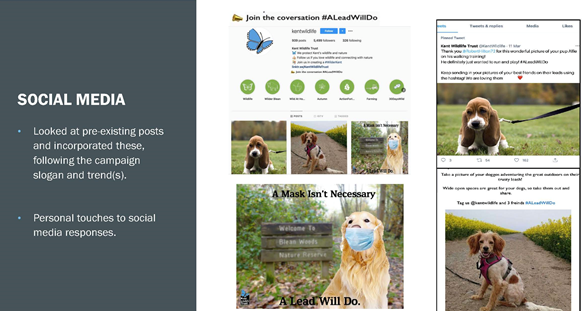 Once concluded, both businesses informed the teaching staff, (Caron Jones and William Hill) that they would love to use some of the work produced. Valconia now 'have a flashy logo and brand guidelines' and Kent Wildlife Trust have new marketing material for site use. This outcome supports research that has shown WBL can enhance an organisation's branding and reputation[1].
How do these activities mutually benefit students and business?
The benefit of WBL for students is well documented. Increasingly, there are discussions around the economic benefit for businesses too[1]. The collaborations discussed in this piece, have helped both Valconia and Kent Wildlife Trust with specific projects and goals. Bringing together students and businesses in this collaborative way gives students the opportunity to gain industry experience whilst improving their research, communication and presentation skills. This then provides businesses with innovative, actionable suggestions for real business problems and offers them the opportunity to gain a different perspective that they may not have had.
The pandemic has had a considerable impact on many businesses, and it is important that businesses explore new and innovative ways of working. The costs associated with areas such as new product development, marketing, digitalisation and strategic planning can often be a barrier to many businesses looking to develop. However, there are a range of opportunities at the University to connect with our students, staff and expertise, to work collaboratively on projects and support businesses in the local and regional economy reach their potential.
For students, WBL can mean producing high quality outputs, liaising with stakeholders and adding to their portfolios. Other benefits include having the opportunity to work with professionals in a regulated environment, learning new skills, and becoming familiar with business processes, which helps with creating enterprising students and graduates ready for the world of work.
As a recruitment firm, Valconia hopes the collaborative work they engaged with, has provided them a unique opportunity:
"An area of impact for Valconia is 'breaking down barriers to recruitment', one such barrier is 'lack of experience'. Providing Valconia as a true, live, case to Canterbury Church Church University, gave us the opportunity to create impact, whilst receiving support with branding."
Organisations can work directly with specific faculties relevant to their own sector, or business problem and the Enterprise and Engagement team are able to support businesses with finding the right expertise. Valconia have committed to future 'paid work experience to students and will consider other opportunities to work collaboratively such as, apprenticeships, and internships available internally'.
In summary-
At the heart of the University are our students and WBL can play a vital role in shaping their future. Students can bring knowledge, enthusiasm, and an alternative approach to business problems that could enhance your existing workforce and working practices.
If you are interested in working with our students, we have a range of opportunities available to meet individual business needs. We welcome industry and organisation experts to work with us to develop initiatives and activities within courses, examples include:
Professional skills modules
Assessment based on client-based live projects
Industry mentoring schemes
Job shadowing in the workplace
Case studies, role plays and simulations
Field trips
Advice and training in enterprise, business start-up, commercialisation and funding
Work experience – paid and voluntary opportunities
Contact the Enterprise and Engagement Team to start a discussion on how Canterbury Christ Church University are able to support your business today: b2b@canterbury.ac.uk
[1] https://www.innovation-mc.com/blog/10-economic-benefits-from-work-based-learning-apprenticeships-for-smes
---
[1] https://www.innovation-mc.com/blog/10-economic-benefits-from-work-based-learning-apprenticeships-for-smes