Are you looking for an authentic and effective way to promote your business to over 17,000 students at Canterbury Christ Church University? Look no further! Our Student Brand Influencer program offers you a unique opportunity to showcase your organisation's opportunities, products, and services on campus. Through peer-to-peer promotion, our brand influencers enable you to connect with the student community, increasing brand awareness and driving your business towards its objectives.
Benefits tailored to your business needs include, but are not limited to:
Targeted Marketing: Reach the student population with your service or product offerings.
Student and Graduate Recruitment: Develop a pathway to recruit talented individuals for your organization.
Expanding Business Opportunities: Strengthen relationships within the University to explore further collaborations.
Cost-effective Connection: Build meaningful connections with your target audience in a budget-friendly manner.
Enhanced Brand Visibility and Credibility: Strengthen your brand's presence and credibility among the student community.
Toby Lucas-Smith, Enterprise and Engagement Manager and Unitemps Branch Manager at Canterbury Christ Church University said:
"Student brand influencers can support businesses with targeted campaigns to increase brand awareness, gain new customers, and streamline student and graduate recruitment. We believe the scheme will be a remarkable success, providing organisations with a way to engage their audience, work with Canterbury Christ Church University, and provide fantastic opportunities for students."
Lee Hart, Stored – Co-founder – '"Jess has quickly become an extension of our team. Far from just following a brief, they have contributed ideas, including the theme and structure of our forthcoming creator event and also shown a fantastic work ethic when it comes to execution. Strong organisational skills, logical thought processes and a considerate and inclusive approach make them a real asset to us and a credit to CCCU."
Our program offers three packages to accommodate your business needs and budget:
Bronze, Silver, and Gold. For package details, please reach out to us at unitemps@canterbury.ac.uk.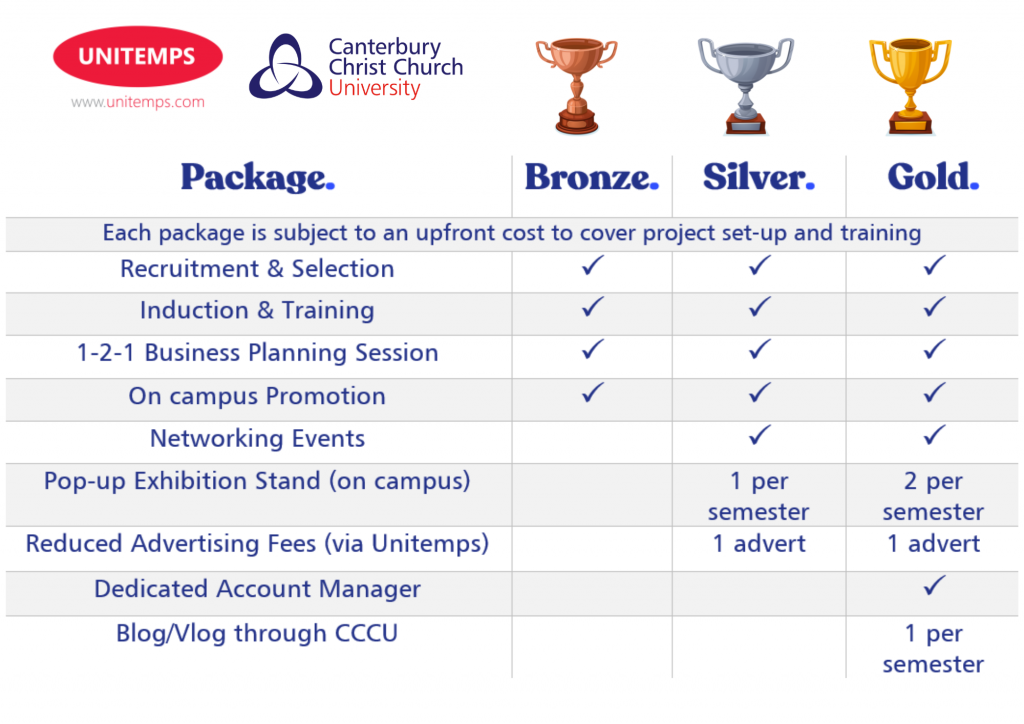 Why Choose Student Brand Influencers?
The power of brand influencers lies in the organic relationships they create with consumers. By leveraging student influencers, you can quickly engage and impact your audience, building trust in a shorter timeframe. This agility allows you to directly connect with your target market and align your business strategy for accelerated growth. The University's vast reach makes this a cost-effective marketing tool that local businesses can capitalise on.
Meghan Eales, Stagecoach – Marketing and Communications Officer – "Working with Unitemps has introduced us to a like-minded and driven student who has helped Stagecoach realise our social media goals that much sooner."
Ready to Tap into the Student Market?
If you're interested in leveraging the potential of student brand influencers, don't hesitate to contact us at unitemps@canterbury.ac.uk. Let our campus business ambassadors help you unlock new possibilities and seize the attention of the vibrant student community!