Viewing submissions via the Grade Centre
Blackboard Assignment
Access to submitted assignments is via the Grade Centre.
From the Control Panel select Grade Centre, from the drop-down options:
Needs Marking filters the view to items that have been submitted but not yet marked.
Full Grade Centre displays a grid of all student names on rows and all items in columns that are gradable within that Blackboard course.
Assignments displays a grid similar to the Full Grade Centre, but only shows Blackboard Assignments in columns.
Tests similar to Assignments, displays only Blackboard Tests in columns.
Select Assignments from the Grade Centre options and any unmarked/graded Assignments submitted will show with a yellow Exclamation mark icon under the Grade Centre column of the Assignment title.
Position your cursor in the table cell with the exclamation mark
When the cursor is in the cell, a grey drop-down arrow will appear.
Click on the grey drop-down arrow and it will bring up a menu: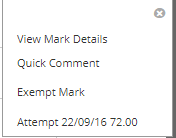 Select View Mark Details to display the Mark Details window:

Select View Attempts to view the submitted work.
The Grade Assignment window will open: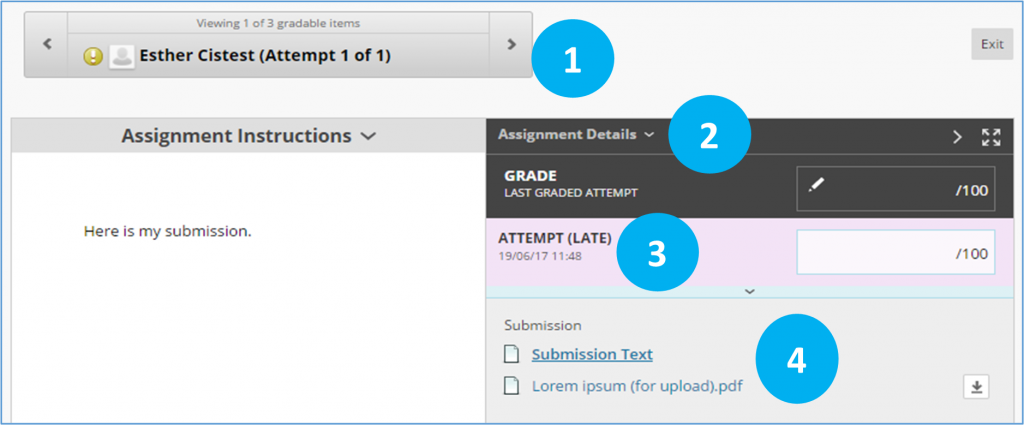 Viewing X of Y gradable items – selecting the arrow head will move between different student submissions.
Assignment Details – clicking on this will expand and display the Assignment instructions e.g. Due Date, Submitted Date and Status.
Attempt – displays each attempt if multiple attempts were permissible and/ or attempted.
Submission – List of documents the student has submitted. Clicking on the title of each will either display the text added byu the
If the submission was media embedded via ReCap, owing to the current security settings in Blackboard only a link will show (not a thumbnail of the embedded media). Simply select the link to play the media. For further guidance please see ReCap for Assessment.
Viewing Multiple Attempts
If the Blackboard Assignment was set up to allow Multiple or Unlimited number of attempts, and the student has decided to upload multiple attempts, the attempts would be listed in the Grade Details window: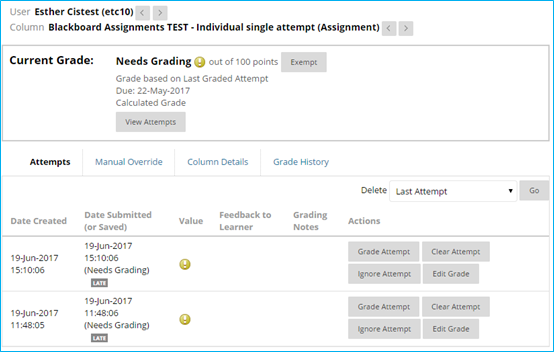 Selecting either the View Attempts or Grade Attempt will open the Grade Assignment window:
You can select the drop-down next to Attempt to toggle between the different attempts submitted: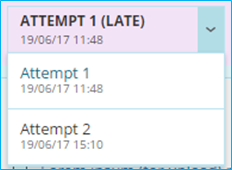 To view or download the students' assignment(s), click on the submission title, which will either display the text added by the student or present the option to download the student's submission.