Blackboard Assignment
If a rubric has been attached to the assignment, click on the rubric name to expand.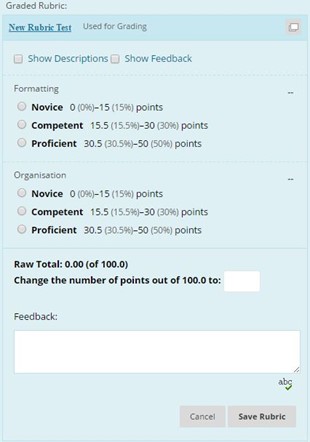 Click on the desired criterion for each section. The range of points available for that criteria can then be selected from a drop-down selection within the defined points range.
Points will be automatically totalled as the Raw Total, however you can still amend/overwrite using Change the number of points out of xx.x to:
The rubric can also be opened in its own window to give more space to mark and view. Click on the expand rubric icon.
Feedback on the rubric scores can be left at the bottom. Remember to click Save Rubric once you have completed marking using the rubric to ensure that your interactions are not lost.