Turnitin in Blackboard Original
IMPORTANT NOTE: Students are required to submit work to Turnitin themselves. For students with disabilities, submitting work uses regular Blackboard web pages which are screenreadable and tab-controllable. However, it can take a lot of 'tabbing' to use. If students find this difficult, tutors or programme administrators may submit work on their behalf.
To submit a student's work for them,
Go to the Assignment InBox of the Turnitin Assignment you want to submit the student's work to.
Select the Submit button (top-left of list of submissions).

Choose the student whose work you want to submit from the author drop-down list: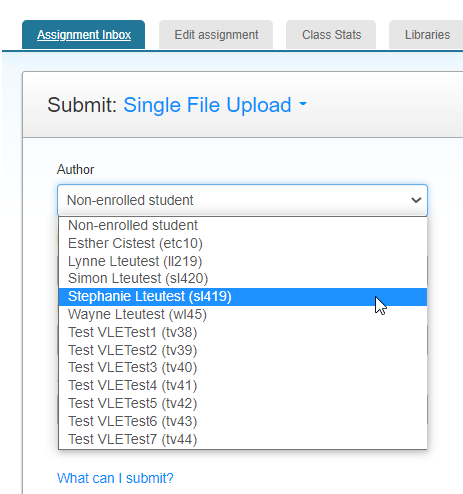 NOTE: If the student's name does not appear in the drop-down list, please see: Update list of student names displayed in Turnitin (Roster Synching).
Enter the Submission Title
Click on one of the options to select the file you want to upload
Navigate to the correct file and then select Upload
Wait for the Single File Upload screen to display fully and double check the details
When you are happy that the correct file is being uploaded select Confirm
Then select Go to assignment inbox to return to the Turnitin Assignment InBox