The recording software is already installed on the University PC's, but should you wish to use the software from home, you will need to download and install it first.
Within the ReCap media window select the Create Recording link at the top of the screen.
The Create Recording window will open: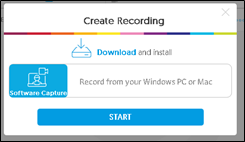 Click on Start
Select to "Open URL:YuJa Protocol" from the window that opens:

The recording Software Station window will open:
Enter a Title
and a Description if desired
Click on the folder icon and select which folder you wish to store your recording in. (Should you forget to select this, your recording will be automatically placed in your Manage Media /Default Collection.)
Select each of the Video, Audio and Screen options to select which you wish to turn ON or OFF or if using an on-campus podium PC click on the drop-down option against Profile to select what elements you wish to capture in the recording: Default, Microphone and Screen or just Microphone.
Note: If you are recording at your desk and you have dual monitors or if a webcam has a microphone, then please check that each correct device is selected for its purpose.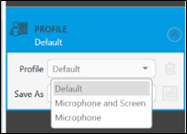 Click on Start
Once you have selected Start a countdown from 3 will appear on the screen: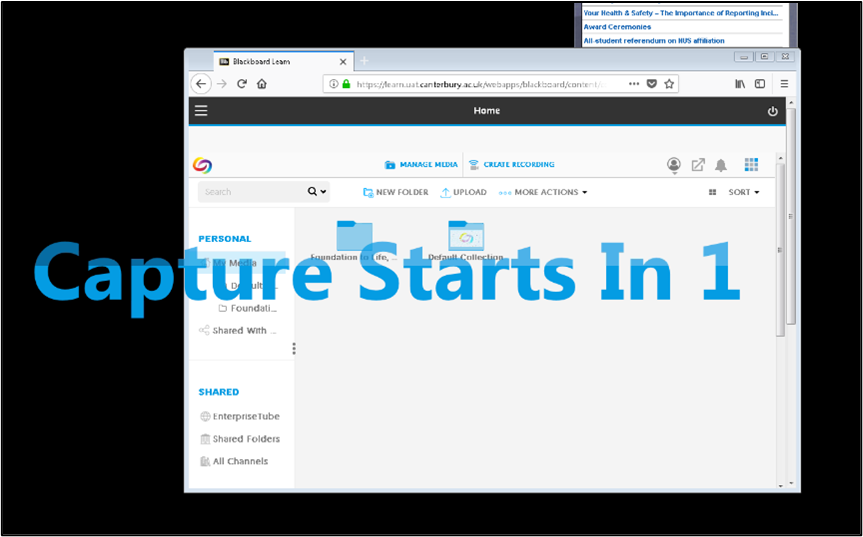 Both the Microphone and the Screen (depending on which profile was selected in the earlier options) are now being recorded.
The ReCap toolbar will be visible in the bottom right-hand corner of your screen from which you can either Pause or Stop the recording, or open the YuJa Software Window (selecting the YuJa logo):
Below is a video, demonstrating how to manually record using ReCap on-campus using the podium PC.
Direct Link: https://cccu.yuja.com/V/Video?v=21004&node=126325&a=214822004&autoplay=1