Upload GIF, JPEG and PNG images, PDF files, or non-animated PowerPoint presentations of 60MB or lower to your session. You can upload multiple presentations, however the total size allowed is 125 MB or lower for any particular session.
NOTE: as of May 2022, session attendees can download, in PDF format, any full file (including annotations) or any whiteboard shared using a download icon in the top right of the session. Files uploaded from the Share File option can only be downloaded once shared.

This is to provide better accessibility assistance for attendees, such as those who use screenreaders, who need to have the file in a separate state (e.g. to make use of different magnification options), or those who need longer to view the content than it might be available on screen in the session.

If you don't want attendees to download files, share a specific application or screen instead.
From the Share Content panel in your Collaborate session select Share Files: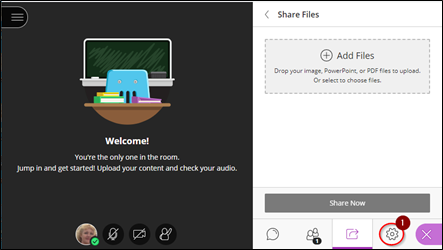 Select Add Files or drag a file into the box to upload it. Then select Share Now.
You can preload files for a session at the beginning of the week, or even at the start of the semester. However, you will need to enter the session and load the files you want to share. These files stay in the session until deleted by a moderator. Load them once and reuse them as often as you want.
If you cannot join a session you want to upload files to, edit the session and change the date and time to start now, then upload the files. Don't forget to change the start date and time back to the original time.
You can choose to allow participants to mark up your shared file during a session. See Share Blank Whiteboard section. Go to My Settings [1] and then select the Session Settings to make your choice.
When using PowerPoint
You can upload and share PowerPoint files directly in Collaborate or share the PowerPoint via Application/Screen. Read below to decide which to use.
Share Files: For the best overall experience, use Share Files for non-animated PowerPoint slides.
When uploaded each slide is optimised so all attendees can view quality slides no matter their network connection.
With Share Files you can upload more than one presentation at any time to have ready for your session.
Uploaded files stay in the session until deleted by a moderator. This makes it easier to return to a slide if you need to review.
When you upload your presentation, you can use the annotation tools with your slides. See Share Blank Whiteboard section.
You can also choose to allow participants to use the annotation tools during a session. See Share Blank Whiteboard section.
Screen reader users can access text from PowerPoint and PDF files shared in the session. This provides an easy way to follow along as slides change. Moderators and presenters must select Share Files and upload the files to Collaborate for screen readers to access the text.
Share Application/Screen: Use Share Application/Screen, if you have animations or special symbols in your presentation or if you are presenting live in a physical space and online at the same time!
NB: Make sure your presentation is set up and running on the screen you want to share before selecting Share Application/Screen in Collaborate.
In PowerPoint open the Slide Show menu and select Set Up Show.
Select Browsed by individual (window) and select OK.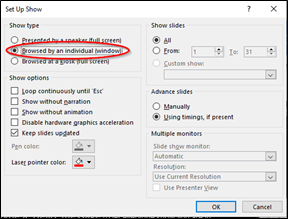 Start your presentation.
Resize the presentation window to the size you want.
In your Collaborate panel select Share Application/Screen and then Application Window and select the PowerPoint or screen you want to share.
Click on Share
For the best experience, don't use Normal or Full screen views for your presentations. These views can make it challenging for you and your attendees to see everything. Instead, share your slides in a resizable window.