Blackboard Collaborate has an intuitive design for scheduling sessions and viewing recordings. This is called the Collaborate Scheduler.
To access the Course Scheduler select the three dots next to Blackboard Collaborate in the left-hand menu and then select Manage all sessions: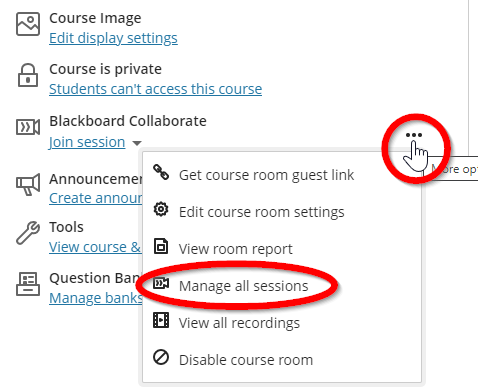 You can invite your attendees/students to access your Collaborate session in two ways:
Via the Collaborate link in the Module Blackboard menu (recommended for students already enrolled on that module board)
Via a guest link emailed to them (for externals or students not enrolled on that particular module board)
Template email to invite attendees
A template email to send to your attendees in advance of a session is available for your use. Copy and paste the body of the document (available as a Word document for ease) into an Outlook message and then review/tailor the details in red and delete the sections that are not relevant, including anything in [square brackets]. This has been designed to contain as much information as a participant/attendee may require in advance of a session, depending on how the session will be run.