ReCap Housekeeping
Alternative quality versions of your content are automatically made by ReCap to enable smoother playback across a range of connection speeds. If your content hasn't been viewed for 3 years these alternative quality versions will be deleted as part of the ReCap housekeeping process in order to manage storage costs. The original version of the video will remain playable, albeit with potential buffering on slower connections. Content owners can also recreate the alternative quality versions, called 'transcodes' by YuJa (the software which powers ReCap), at any time in the following way.
Locate the content in your My Media area in ReCap.  Hover the cursor over the content and select More…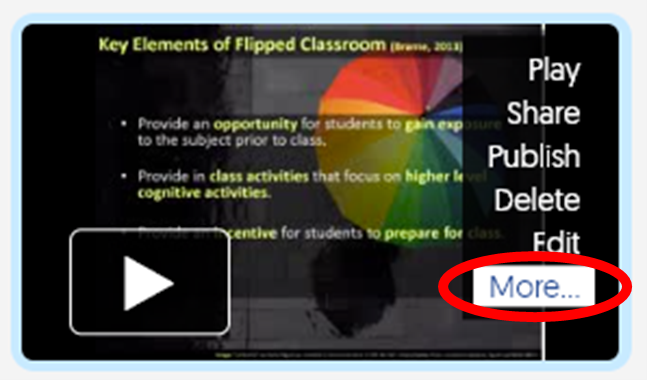 Expand the More Options section within the More… menu and select Transcodes:
Tick any currently unavailable alternative quality versions that you want to recreate:

Click the Save Transcodes button to request recreation of the alternative quality versions.
Close the More… menu, return later and re-open to check progress.  Recreated alternative quality versions will say Finished:

If after some time they are still showing as Not Available, check that you clicked Save Transcodes when requesting their recreation, before closing the More… menu.  For support, or to request creation of alternative versions of higher qualities, CCCU Staff can contact their Digital Academic Developer and for KMMS Staff the Digital Education team.