Turnitin
What is a Turnitin Paper View Request?
Papers submitted to Turnitin for summative assessment are stored in Turnitin's Repository, a database containing submissions not just from CCCU but also from every other institution using Turnitin. This means that matches can be made in the Similarity Report for a paper submitted at CCCU to a paper submitted elsewhere. In the event that this happens, requests can be made by institutions to view the 'original' paper that is being matched against. Turnitin process the request and send an email requesting access to the paper. This option, known as a TurnitinUK Paper View Request, is optional and instructors are under no obligation to reply.
Who is responsible for dealing with Turnitin Paper View Requests?
If another institution makes a Paper View Request, Turnitin will email the request to every Instructor* who has accessed Turnitin on the Blackboard course that the original paper was submitted to. To avoid confusion, Courses should nominate a person or persons responsible for deciding which requests to approve – this would normally be the Module Lead.
As Turnitin facilitates the request on behalf of the requestor, emails will be received from noreply@turnitin.com.
* Emails are sent to the Instructor's CCCU email account. It is not possible to automatically have these sent to a generic account/inbox from Turnitin directly.
What to do with a Turnitin Paper View Request
If you are not the nominated person or persons for dealing with Paper View Requests for your programme or module, then you can safely delete the email from your inbox.
If you are the nominated person or persons, you should review the email request received to decide whether to approve (by following the instructions in the email) or decline it (by deleting it). To assist, the email contains the full text of the paper, and a brief overview of the assignment in question (title, submission date, and Blackboard Course name) as it was originally submitted. Also included in the email is basic information about the matching paper, such as the Instructor's name who has made the request, which institution they belong to, and the similarity percentage it has matched against the paper submitted to CCCU.
If you choose to accept the request, the full text of the original paper will be sent to the requestor by email. Please make sure to remove any identifying student information in the text to respect the privacy of your student.
An example: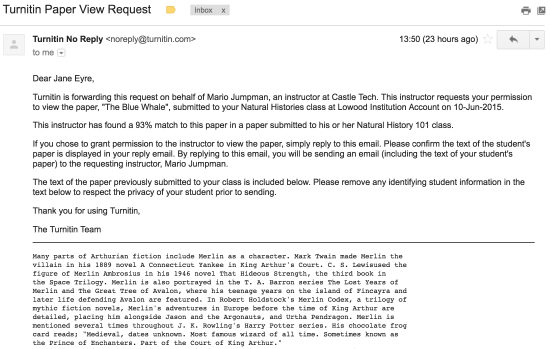 Considerations for approving or declining a request
Here are some things to consider to inform the decision whether to approve or decline a request. This list is not exhaustive, but gives some starting points for what to look for in the reason the request was made, or the paper it has matched against.
Similarity percentage match – is the request based on a very high similarity match (where you might wish to approve), or a very low one (where you might wish to decline)?
Type of submission – was the original paper a general assignment (where you might wish to approve), or something more personal/private (where you might wish to decline)?
Sensitive information – does the original paper contain any sensitive information, including private information of other people? (if you choose to approve, you will need to remove this information from the text in the email)
Making your own Turnitin Paper View Request
Instructors can also make their own Turnitin Paper View Requests, based on the Similarity Report from a student's submission. Turnitin's Managing Paper View Requests page breaks down the process for this nicely.
Further Support
If you have further queries about Turnitin Paper View Requests, please contact your school's Digital Academic Developer, or log a call with the IT Service Desk (it-service@canterbury.ac.uk) who will escalate to the TEL Team.