Blackboard Ultra
How can I access students' submitted media?
You can see students' submissions to Blackboard Ultra Assignments via the Gradebook in your Blackboard Ultra module site (formerly the 'Grade Centre'):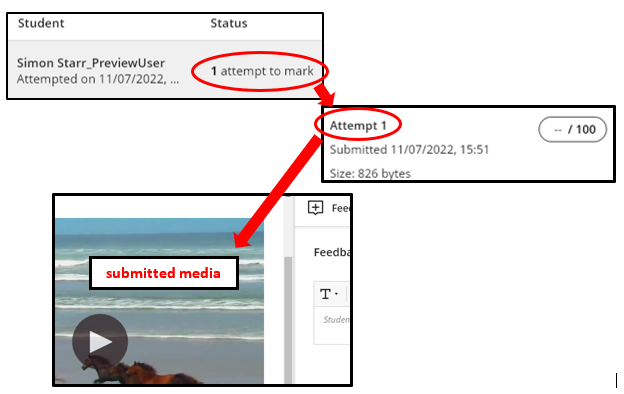 See the Blackboard Ultra Assignments guide for staff for more information on accessing submissions, including files attached directly to the submission rather than embedded media, how to set the number of submission attempts that can be made and how to clear an incorrect submission.
Why can't I play a student's ReCap media?
Newly uploaded media needs to be processed by ReCap before it can be played. You will see a holding icon (shown below) while it is being processed.

The student guidance advises their media can be embedded in the Blackboard Assignment and submitted immediately, before ReCap has finished processing it, and that markers will be able to play it after ReCap has finished processing it.  Contact the IT Service Desk if you find it is still not playable after an hour or two.
ReCap uses your CCCU computing login, same as Blackboard, but the first time you view a student's submission in a given marking session you will need to login by clicking the 'Authenticate' button, and ensuring it is set to CCCU.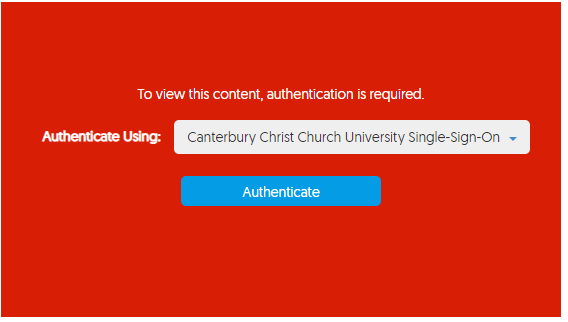 Adding and Releasing Marks and Feedback
Marks and feedback are added in the standard way for any Blackboard Ultra Assignment submission, whether or not ReCap is embedded, by accessing the submission via the Gradebook: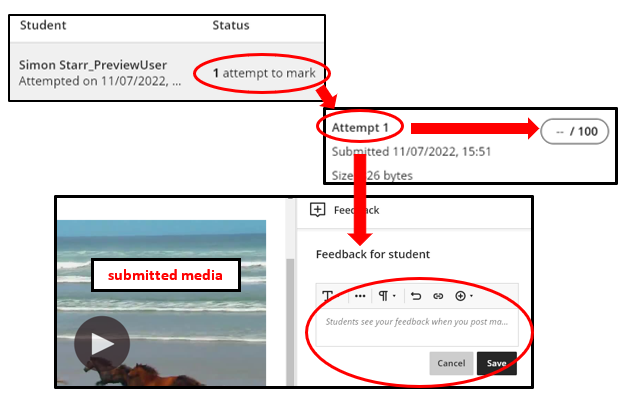 When ready to release the mark and feedback, simply click the Post button next to the student (or students).

See the Blackboard Ultra Assignments guide for staff for further guidance.
---