After the recording has been stopped and you selected Save, it will take a little while (depending on the length of the recording) for the recording to upload and process, this is an automatic process and does not require any interaction from you.
Navigate to your ReCap Manage Media area
If you selected a folder to save to prior to starting the recording then navigate to that folder.
If you did not select a folder then you will either see the recording in your Default Collection folder or in the main Manage Media area.
You may not see anything initially! Please be patient, the upload may still be taking place. Once uploaded you will see the 'Processing' image.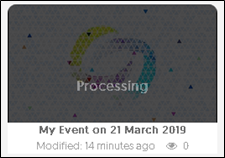 Once fully processed the thumbnail image will display the first recorded screen.