Sub-Channels allow you to organise your media into distinct sub-collections within a designated Media Channel (Module Blackboard ReCap channel).
Navigate to the relevant module Blackboard where you wish to set up the sub-channel. 
Select the ReCap link.
You will now be in that module's ReCap channel: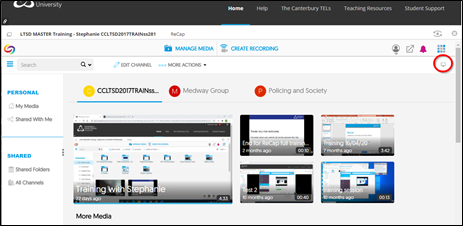 Your screen may look different to the above image depending on your choice of display format. Your screen may look more like this: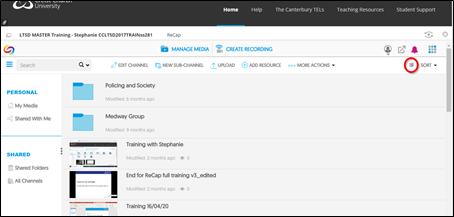 To switch between the two viewing formats simply select the Format Display icon in the top right-hand area of your window, located just under the Main Menu grid icon.
The above images show content that has been published to that module's ReCap channel together with 2 folders (Medway Group and Policing & Society). These folders are known as sub-channels.
Creating a Sub-Channel
Ensure your ReCap channel view is selected to the Sort View
Along the top menu bar select New Sub-Channel. The Create a new Sub-Channel window will open.

Enter a name for your new sub-channel and then select Save. The new folder / sub-channel will appear in your ReCap channel.