How Students submit
Blackboard Assignment
The maximum recommended file size is 250MB. There is a 4GB limit if submitting media files.
Students would navigate to the content area that contains the Blackboard Assignment and click on the Assignment name to open the upload assignment window: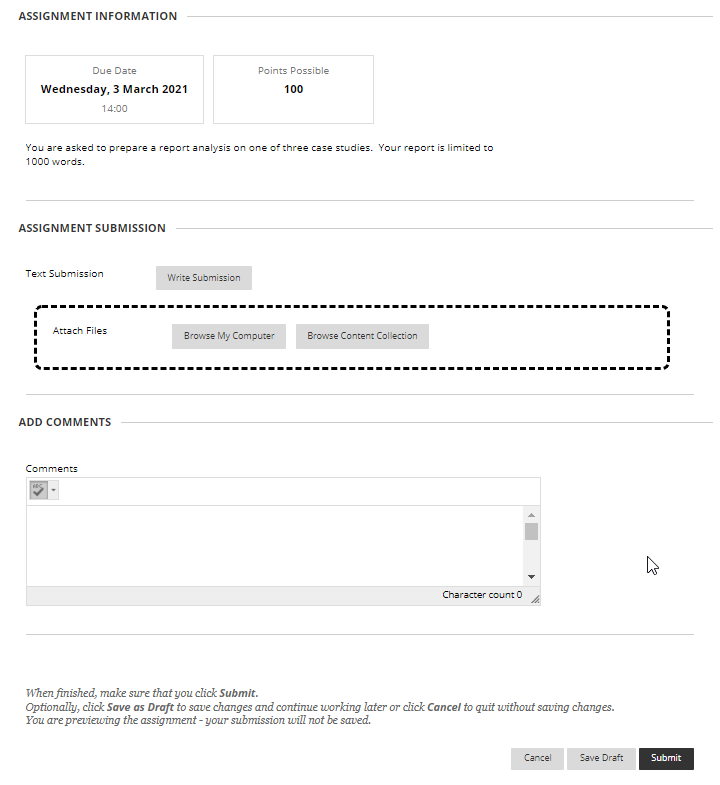 Information about the assignment, such as the due date and any instructions will be displayed.
Selecting the write submission will open a text box in which the students could type their submission. However, most of the time the student would upload a file by selecting the Browse My Computer or simply dragging and dropping the file(s) in to the dashed area.
If submitting a media file, please refer to the additional guidance on the Blackboard HELP tab for Students for either Kaltura (which is being phased out by end of Semester 1 2021/22) and being replaced with ReCap. For staff please also see the ReCap for Assessment guidance.
If there are multiple files to be submitted all files should be attached before selecting submit.
Selecting the save draft option will save the files that have been uploaded but will not submit the assignment. Once all files to be submitted have been attached, selecting submit will submit the work for assessment.
The submit should only be clicked once, then wait for the transfer to finish.
Double clicking the submit, or selecting the back button or submitting again even if the transfer is taking longer than anticipated may result in the assignment becoming corrupted.
When a submission has been successful a message bar at the top of the screen will display a summary of the work submitted together with a submission confirmation number.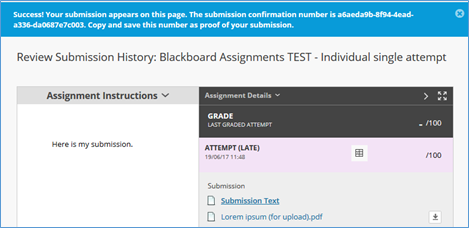 Submitting Multiple Attempts
If the Blackboard Assignment has been set up to allow multiple or unlimited attempts, returning to the content area within Blackboard where the assignment has been set-up, simply click on the assignment name and resubmit.
The Review Submission History window will display the Start New icon: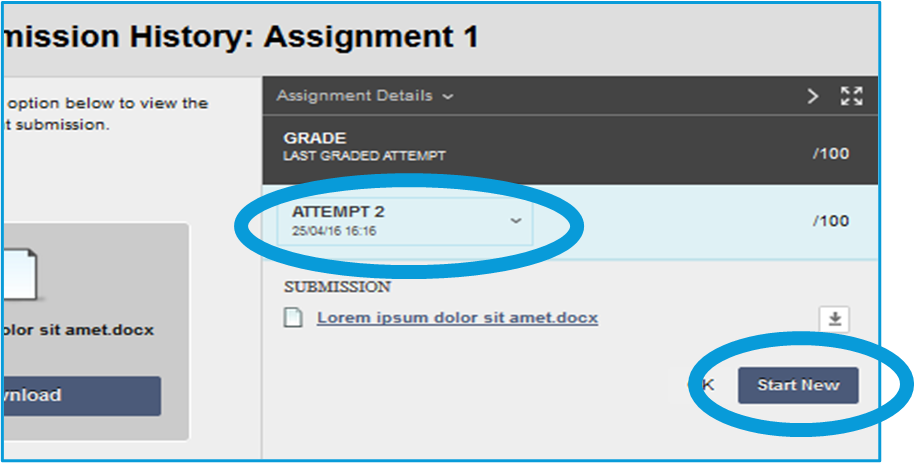 Follow the previous steps given to browse and upload your file(s). Each time you submit, the number of attempts will show in the panel.
To view your previous attempts, use the drop-down arrow to select which attempt you wish to view.