Blackboard Original
All modules and courses created prior to 2022/23 have the Blackboard 'Original' look-and-feel and used an older version of Turnitin called the "Blackboard Basic Building Block". This method of setting up Turnitin Assignments was no longer possible from late October 2022.
If you need to edit a Turnitin Assignment (submission points) in a Blackboard 'Original' module or course for trail and progress students or where the module or course has a longer period of study, the new Turnitin LTI version will have been used
Within the Assessments section of your module Blackboard site, select the link for each folder in turn. Within each folder, scroll down the screen to locate the created Turnitin Assignments.
Ensure that Edit Mode is: ON.
To edit the Title, Due Date or Description fields
To edit the Title, Due Date or Description select the drop-down arrow next to the Turnitin Assignment title and select Edit.

Make the necessary changes to the Name or Due Date field(s).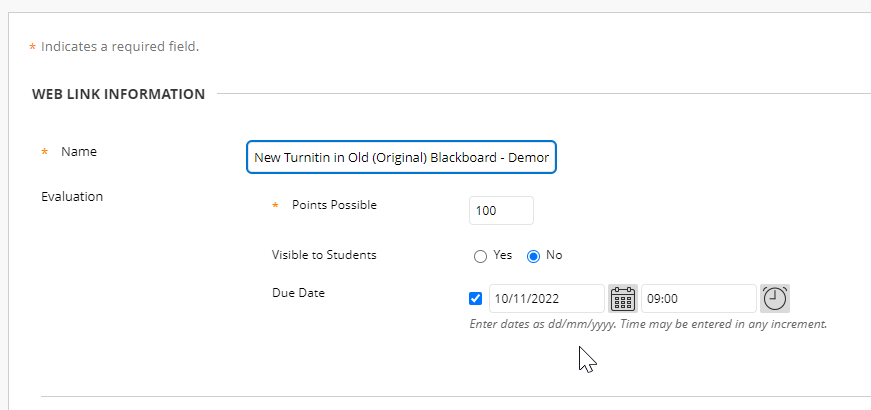 Avoiding Early Visibility of Marks and Feedback
To ensure that students do not have an early visibility of their marks or feedback, please ensure the Visibility to Students is set to No and then select Submit.
To double check that the marks and feedback will not be released by Blackboard early, open the Full Grade Centre and check that the column heading has the column not visible to students symbol next to it: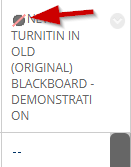 To edit the Feedback Release Date or Optional Settings
To edit the Feedback Release Date or any of the Optional Settings select the Title of the Turnitin Assignment, then from the Assignment Inbox screen select the Cog:

Edit the necessary fields: