Original Blackboard module site(s) come with pre-created Turnitin Assignments (submission points), which utilise a standardised set up. If a particular assessment(s) does not require students to submit their work via Turnitin, please follow the steps below to delete these:
NOTE: Please ensure that NO submissions have been made to the Turnitin Assignment you wish to delete as this will result in student's work being lost and cannot be retrieved.
To delete a Turnitin Assignment:
Scroll down to the Course Control Panel and click on Course Tools > Turnitin Assignments
Click the Delete Assignment link next to the relevant Turnitin Assignment: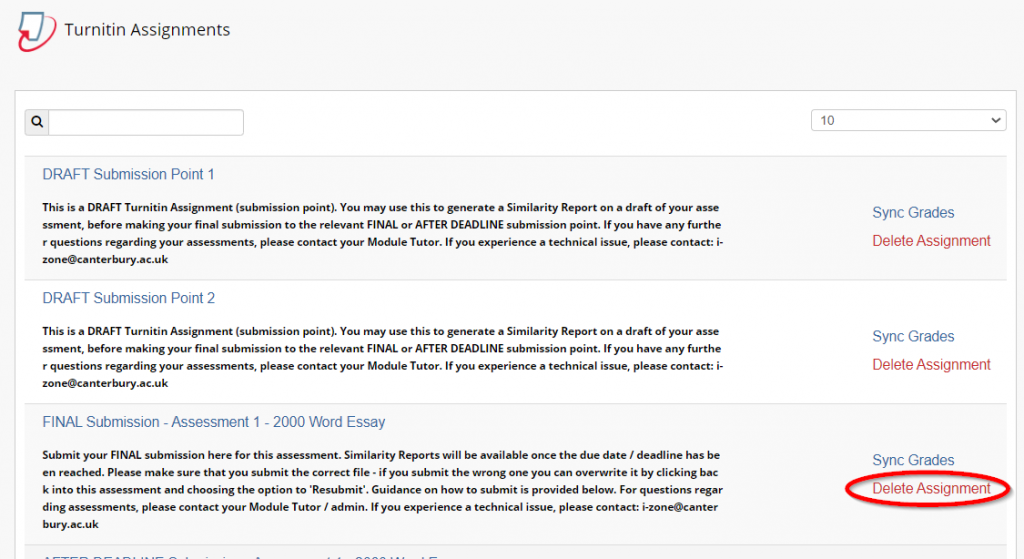 By clicking Delete Assignment this will delete the Turnitin Assignment from the relevant content area, as well as deleting the associated Grade Centre Column.
IMPORTANT: Once you have deleted a Turnitin Assignment it is not possible to undo this action.
Confirm the deletion selecting the OK button on the message that appears:

After deleting a Turnitin Assignment it will continue to be displayed in the list of Turnitin Assignments, simply refresh the page by selecting the Turnitin Assignments link on the Course Control Panel.