NOTE: Please ensure that NO submissions have been made to the Turnitin Assignment you wish to delete as this will result in student's work being lost and cannot be retrieved. Maybe consider 'hiding' the assignment i.e. setting it as 'make unavailable'.
To delete a Turnitin Assignment:
Navigate to where the Turnitin Assignment has been set-up.
Select the drop-down arrow next to the Assignment name

From the menu that opens select Delete

By clicking Delete this will delete the Turnitin Assignment from the relevant content area, but it does not delete the associated Grade Centre Column.
Navigate to the Full Grade Centre and locate the relevant Turnitin Assignment column. Use the drop-down arrow in the column heading and select Delete Column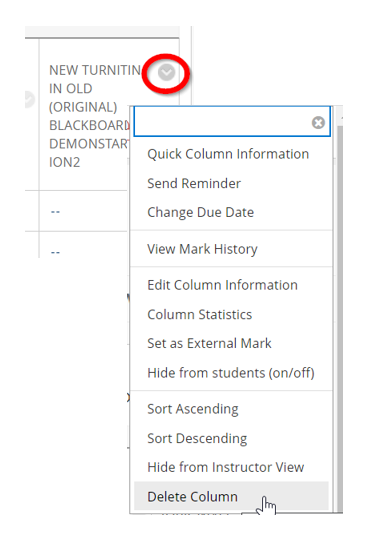 If the Delete Column option does not appear for you – check that you have deleted the Turnitin Assignment from the main content area.
IMPORTANT: Once you have deleted a Turnitin Assignment it is not possible to undo this action.