For some colleagues we offer a 'Course Search' permission that allows for searching the wider Blackboard course catalogue within a given faculty. The following guide explains how this works, how to request this, who it is applicable for and what is needed by you.
What is Course Search?
Course Search is a selectively applied permission that allows a staff member to access the course catalogue on Blackboard. These staff members can then enrol onto any Blackboard Course with full Instructor permissions, make changes, add content/users, and unenroll themselves once they are done. Please ensure that you have undertaken training for either Blackboard & Turnitin for Administrators, or Blackboard: An Introduction and Turnitin: Assignment Set-Up if your role requires you to make changes to Turnitin Assignments.
Course Search is applied at a Faculty level, so staff will only get access to the courses for the Faculty (and schools that sit within this) that are appropriate to them. Multiple Faculties can be applied if necessary.
Who is Course Search relevant for?
Typical roles that may be relevant for Course Search include: programme administrators, module leads, faculty-aligned librarians and learning developers, academic administration and registry colleagues.
Requests for Course Search.
Who can request Course Search?
Requests for Course Search permissions should be approved by the programme/module lead, or manager. This is to ensure that requests are approved at the right level and to limit requests being made that might not be wholly necessary (i.e. where an individual or small group of enrolments might be better suited rather than access to the wider course catalogue).
Please note we are unable to grant Unitemps with Course Search permissions.
How to make a request
Requests should be made via the IT Service Desk (it-service@canterbury.ac.uk) with evidence of the approval of the relevant programme/module lead or manager and Cc'ing the school's Digital Academic Developer (view LTE Staff Directory).
What is needed from you
Once the request has been made, you will then be emailed a form which you will be required to confirm agreement of.
How to use Course Search
Searching for a Course
Once the permission has been added to your Blackboard account you will be able to search for courses in the desired faculty.
Open Blackboard (preferably using the Google Chrome browser)
In the banner at the top, choose System Admin

3. The Administrator Panel will open. Click on the Courses option in the box of the same name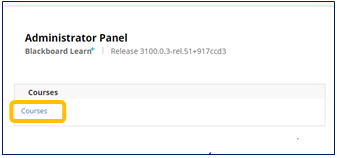 4. The Courses search screen will load. Here you can search for all the Blackboard Courses within the faculty that your permissions allow.

5. Using the first drop-down box, you can search in a few different ways to find the course you require. The most useful, however tend to be either for the Course ID (unique for every Blackboard Course) or the Course Name, both of which support keyword or partial matches. Please Enter or click 'Go' to search.

A list of results matching your search will be displayed. Columns can be sorted by clicking on their headings if necessary. When you find the course you need, click on the Course ID link to access (in the example below this is A17MLTMD2MAE)

Enrolling onto a Course
When you access the course you will need to enrol yourself by clicking on the Quick Enrol button underneath the course menu / course management list on the left side of the course.

A Google Chrome pop-up message will appear advising you that you will be given Instructor access. Press Enter or click OK to continue.

You are now enrolled on the course with full Instructor permissions, including access to Turnitin. The course will also appear in the 'My Courses' section of the Blackboard Home Page.
Unenrolling from a Course
To unenroll, click the Quick Unenrol button at the bottom of the course menu / course management list, where the Quick Enrol button was previously.

A Google Chrome pop-up message will appear advising you that any data created will be lost. This does not include any content, announcements, or Turnitin Assignments – but does relate to any Discussion Board posts that you may have made. Press Enter or click OK to continue.

You are now unenrolled from the course. The course will no longer appear in the 'My Courses' section of the Blackboard Home Page.