Blackboard Original
In the event of a Blackboard/Turnitin outage, Academic Administration will confirm whether programmes are required to extend submission deadlines by 24 hours for all Turnitin Assignments (submission points) for assessments due that day, regardless of whether the assignment was due before or after the time of the outage. Please refer to the University Assessments Procedure for further guidance.
Within the module Blackboard where the Turnitin Assignment is hosted, locate the required Assignment and select to Edit it from the drop-down menu.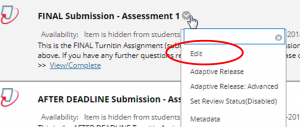 To allow for the 24-hour extension you need to change the Due Date on each of the two Turnitin Assignments for the assessment:
| | |
| --- | --- |
| Turnitin Assignment | Action |
| Final (on time) | Extend Due date by 24 hours. Do not change 'to allow late submissions'. |
| Final (After Deadline) | Update to be to one minute after the extended due date on the Final (on time) Turnitin Assignment. |
Please note that it is not typically advisable to change the setting of a Turnitin Assignment retrospectively as there can be unintended consequences. The method outlined here will not affect any submissions already made.
Repeat the following steps for each of the two Turnitin Assignments, adjusting the Due Date for each by 24 hrs.
In the 'Update Paper Assignment' screen, click the calendar icon next to the Due Date options.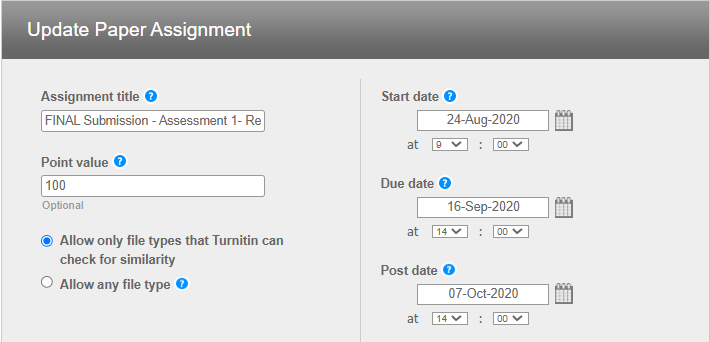 The calendar icon will open an interactive date menu.
Select the date after the original Due Date (in this example the original Due Date is 16-Sep-2020, so 17-Sep-2020 is selected).
Upon clicking on the new date, the date menu will close and the new Due Date will be shown.
Once the changes have been made, click the Submit button at the bottom of the page to accept the change.
Note: If you receive a pop-up message about the Post Date, ensure that the information is correct and click OK.
Should the extension period be extended further (i.e. in the event of an ongoing Blackboard/Turnitin outage) this date will need to be moved forward in parallel with the outage (please consult message that would be posted to the top of the Blackboard Institution Page / StaffNet for ongoing updates).