Turnitin in Blackboard Original
Based on the standardised University Turnitin set-up, you should only ever need to change the assessment dates, for example when there has been a change to the submission deadline and/or feedback return date, and in some circumstances the assessment name.

Once you have your Turnitin Assignments set up to the cross-University standard, please do not change any settings other than dates and/or assessment name.
Within your Module Blackboard, select the Assessments link from the menu.
Go to the folder containing the Turnitin Assignment.
Select the drop-down arrow to the right of the Turnitin Assignment heading.
Select Edit from the menu.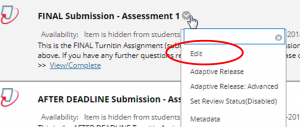 Make the necessary changes to the Name or Date field(s).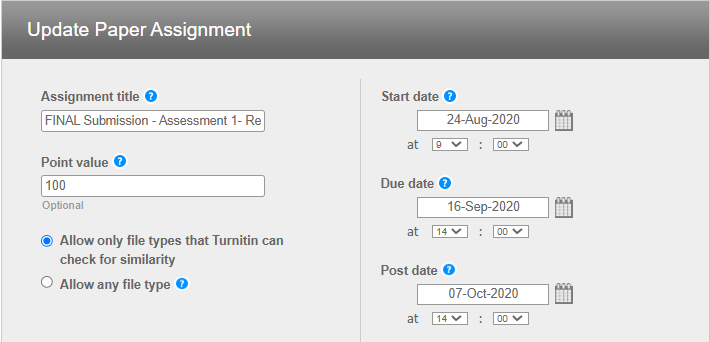 IMPORTANT: IF CHANGING THE POST DATE (FEEDBACK RELEASE DATE)
If you need to change the date feedback is released to students (Post date), the way that Turnitin works with Blackboard means that it is possible that a copy of the grade added to Turnitin feedback may be visible to students through Blackboard but not through Turnitin.

To avoid undesired early visibility of grades, please see: