When viewing a BoB recording, click on the Share button: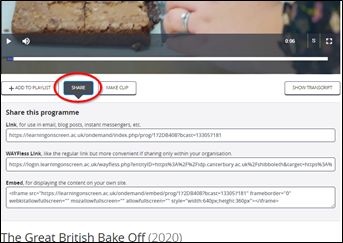 You will be presented with 3 options.
Exactly the same as copying the URL from the browser address bar.  Use this method to add a Web Link in your module board, or add it to an email message or word document.  But be aware that when the URL is selected the students will first be prompted to sign into BoB, before being routed to the programme.
This is probably the better option when creating a link for use by CCCU staff or students as the link will send the user straight to the CCCU login page (if the individual isn't already logged in), and then once logged in, take them directly to the recording.
You can embed recordings directly into your module board BUT if you or your students are not already logged in to BoB, you will need to do this before you can watch the embedded video.
If you are not logged in, you will see a message "Please sign into BoB and refresh this page". Clicking on this opens a new browser tab prompting you to login to BoB. After signing in, you need to return to Blackboard and REFRESH the page in order to watch the embedded video.