You can embed recordings directly into your module board BUT if you or your students are not already logged in to BoB, you will need to do this before you can watch the embedded video.
If you are not logged in, you will see a message "Please sign into BoB and refresh this page". Clicking on this opens a new browser tab prompting you to login to BoB. After signing in, you need to return to Blackboard and REFRESH the page in order to watch the embedded video.
How to Embed a recording in your Module board
Copy the Embed text from BoB.  Within the module board area where you wish the embedded recording to appear;
select Build Content and from the drop-down list select Item.
Give the content item a Name. 
Ensure your text box is displaying all 3 formatting toolbars.  If it isn't, simply click on the double chevron in the top right-hand corner to display all formatting toolbars:

Click on the HTML icon, to open the HTML window, and Paste the text copied earlier from BoB and click Update.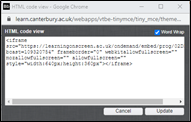 The embedded recording will appear in your module board like this:
The screen prompts the viewer to Sign In which when clicked opens a new tab and the viewer will need to sign in to BoB.  The viewer will then need to return to the open Blackboard tab, refresh the page and then the recording will appear and be able to be played.