As a complement to the indicator icon Ally provides a course accessibility report which includes Overview and Content tabs. These provide either an overall picture as well as specific details about the accessibility of your digital course content.
Overview –shows the accessibility score for the course, course content grouped by content type, and a list of all issues identified in the course.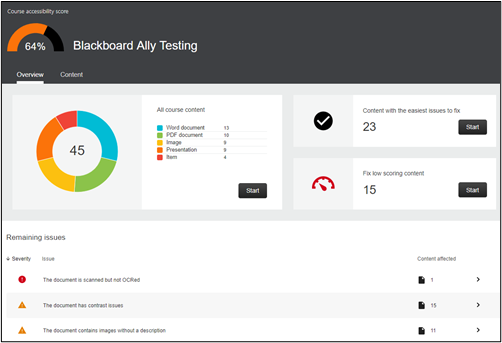 Content – shows you the content with accessibility issues.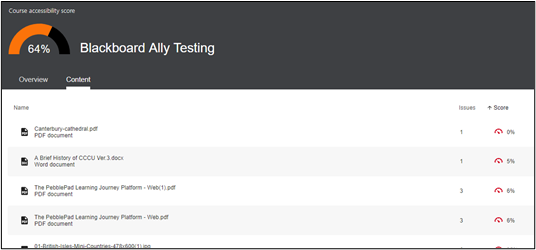 Choose what to fix first
The report can be used to help you decide what to fix first. For example, content with most severe issues first or start with content that is easiest to fix.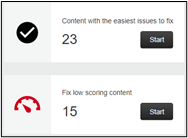 Remaining Issues
Issues are listed in order of priority from severe to minor. Those at the top of the list should be addressed first. Ally looks at the number of students impacted, how often the issue occurs, and the accessibility score to determine the priority.
Severe: These issues are the greatest risk to accessibility and require the most attention.
Major These issues impact accessibility, and while not severe, require attention.
Minor: These issues should be considered for a better accessibility score.
Viewing your Module Accessibility Report
Every Blackboard course has an 'Accessibility Report' available from the Tools link in the Details and Actions menu on your Blackboard site. Clicking on the 'Accessibility Report' link will open the report where you can see a wider picture of the course content, make accessibility fixes, and narrow by severity. More information about using the Ally Accessibility Report.