Please use the following method to add a deep link to an LTI tool, such as SkillsforStudy, to a Blackboard Ultra module/course:
1. in the desired Blackboard module click the + symbol in the location that you want the link to appear, then choose Create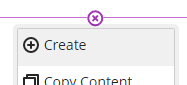 2. the Create Item panel will slide out from the right. Choose Teaching tools with LTI connection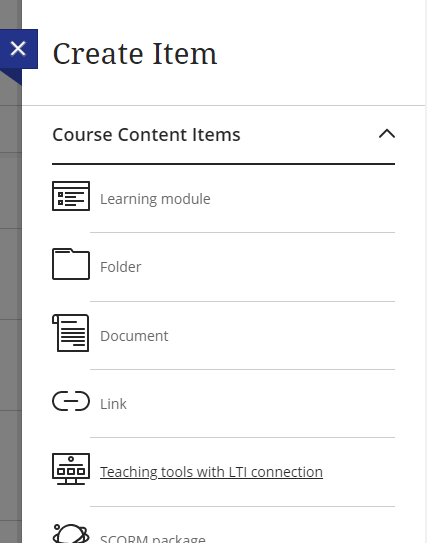 3. the panel will change. Here you can configure/enter the details for the deep link you want to add:
enter a Title at the top
set the Visibility (i.e. whether students can see the link or not, can be changed later)
for the Configuration URL, leave the first box in its default state (https://) and paste into the second box the deep link to the desired webpage (e.g. www.skillsforstudy.com/lti?id=864)
set any other options and the Description as required
click Save to finalise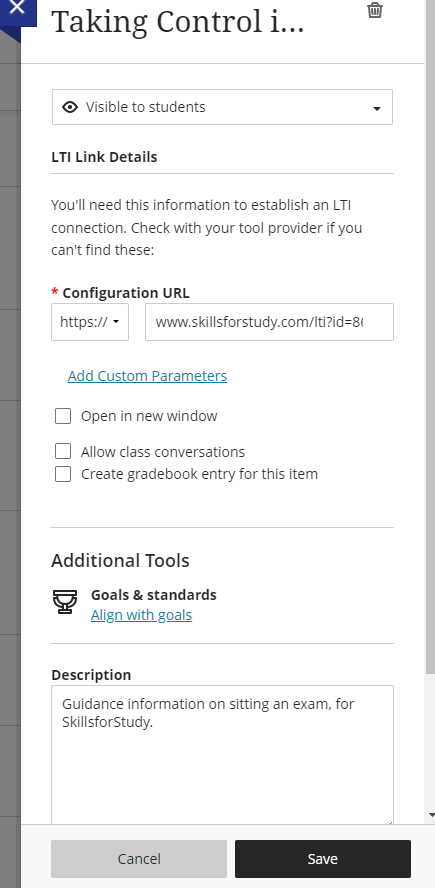 The link will now be created and can be edited by Instructors by clicking on the … symbol to its right at any time. The link appears to all users like in the example below – clicking on the title of the link/item will open a new panel from the right and load the desired content.