Before you start
We advise you view learners' submitted media files on campus due to the fast internet connection. If you choose to view them from home or off-campus please be aware the performance of Kaltura will depend on your home broadband connection. Please ensure that you have sufficient allowance remaining in your broadband tariff before you start to view videos as some providers will charge extra if you exceed this allowance. It is NOT recommended to use a mobile (3G or 4G) broadband connection as this extra charge can be excessive. The university is not responsible for any charges you accrue when using this service.
Managing Visibility of Feedback in the Grade Centre
It is important to check the visibility of the feedback before you start marking Kaltura assignments. For instructions on how to do this please see the 'Grade Centre Column visibility to Students' guidance.
How do I Download Media to View?
Media on Kaltura is provided for consumption online and is only downloadable by the learner themselves. Kaltura videos submitted via Blackboard for assessment are accessible by the Grade Centre.
Where to Provide Feedback?
This guidance assumes that you will be providing feedback using only the Blackboard Grade Centre, however it also possible to provide feedback using a Turnitin submission point as an alternative even when your students submit via Blackboard. Please contact your Digital Academic Developer to ascertain which is your best solution.
Accessing and Marking Submitted Media
Submitted media is accessed via the Grade Centre in Blackboard. This is accessible via the Control Panel in your Blackboard site.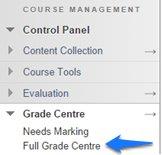 You can write individual feedback directly through the Grade Centre, attaching it to the Blackboard Assignment submission point that the students used to submit their media.
Find the title of the Assignment (1). A submission that needs marking will have an exclamation mark (2).

2. Move your mouse cursor over the exclamation mark and a drop down menu will appear as in the same cell (icon appears as a arrow pointing down). Click the drop down menu and choose the latest dated attempt to mark.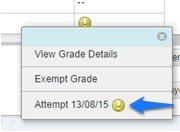 The following screen will now appear.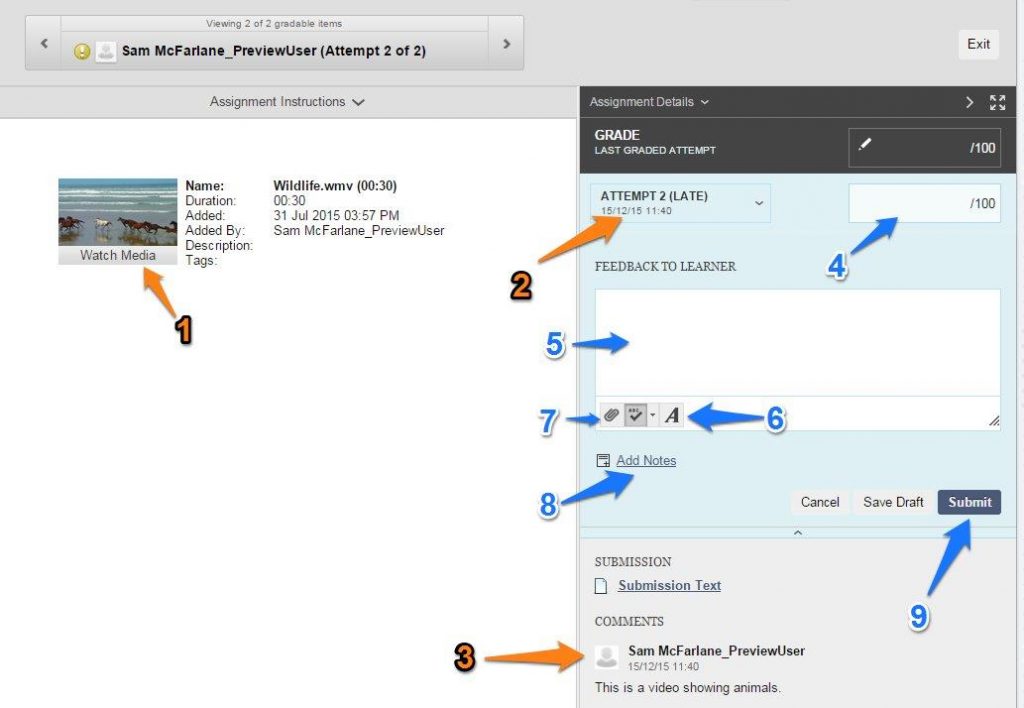 Viewing the Assessment
To view the assessment click the watch media button (1). The date of submission and if it is late is shown at the top right of the grading screen (2). Any additional text submitted by the student is shown at the bottom right of the grading screen (3).
Providing Feedback
You can enter a mark (4), text feedback (5) and attach a marking grid (7) for feedback. If you would like to add formatting to your response or a video response in feedback then please press the button (6) to open the full content editor. Any comments to a second marker should be written in the grading notes section accessible via the Add Notes link (8) as this section is not visible to students. When you have completed the feedback click either the save draft button to come back to it later or click Submit (9) to complete the feedback process.
Archiving Media Submitted
To find out how long media is stored and how to archive videos submitted to a Kaltura assessment please visit the Kaltura Terms of Use.
Where to get Further Support?
If you encounter any problems using Kaltura in Blackboard please contact the IT Service Desk on (01227) 92 2626 or x2626. Learners should refer any issues via their programme, in turn to refer to the IT Service Desk. However the I-zone can answer simple technical queries from students about the service.