Video Guidance: https://cccu.yuja.com/V/Video?v=21006&node=126327&a=491448676&autoplay=1
To download and archive ALL papers in a Turnitin Assignment (submission point), access the Turnitin Assignment point by clicking on Course Tools (in the Control Panel) > Turnitin Assignments. Click on the name of the relevant Turnitin Assignment to open the Assignment Inbox.
Choosing Papers to Download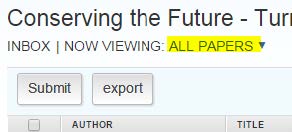 Ensure that you can see all the student submissions by clicking the drop-down box next to Now Viewing: and selecting All Papers.
Select the box at the top of the page to the left of Author. This allows you to select all papers in one operation (alternatively, select the boxes to the left of each of the students that you are choosing to download):

A yellow Notifications banner will be displayed:

Select Download and then Original File (or Original File as PDF) if you are only using the originality checking element of Turnitin.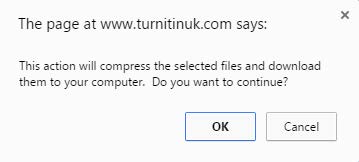 A small window will appear advising you that this action will compress the selected files, select OK
Messages tab and Retrieving your Downloads
A yellow Notifications banner will be displayed informing your that the file(s) will be packaged into a ZIP file and made available in the Messages tab once ready (please note, this can take a little while to generate depending on the number of files to be downloaded)

The Messages tab can be accessed either by clicking on the link in the yellow banner or by selecting Messages in the tabs menu:

Once the files have been compressed and packaged into a ZIP file they will be available to download (Note: the messages tab will say Messages (1 New) to highlight this – you may need to refresh the page to update):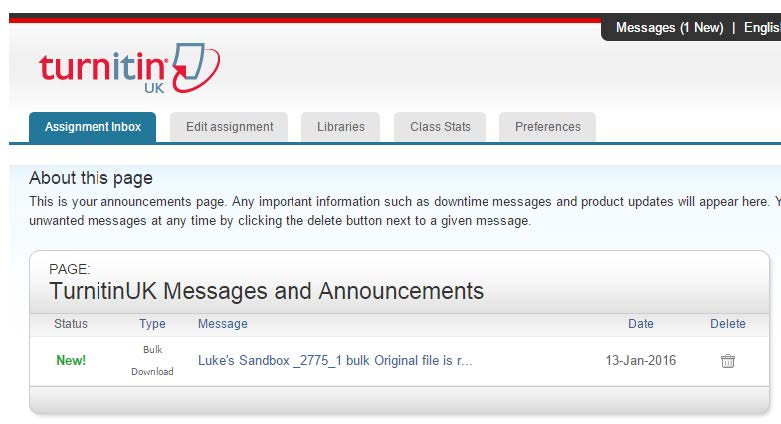 Click on the message name to access a link to start the download: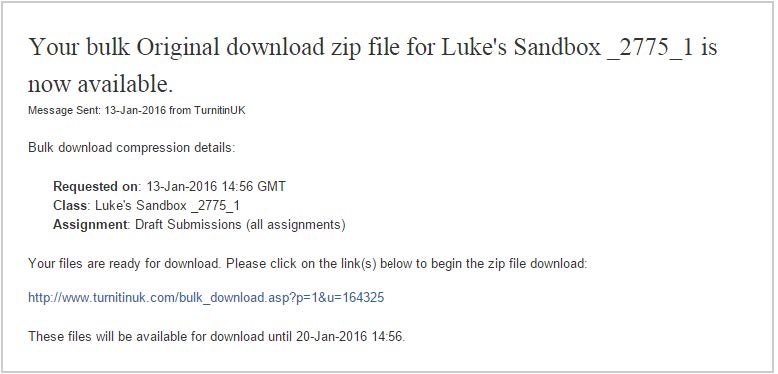 Check your Downloaded Submissions
Note: please ensure you check a few of the files once downloaded to ensure that the operation has completed successfully.