In this article, Student Green Office Events Coordinator Billie Redwood talks about her experiences working with the Student Green Office.
A 23-year-old, second year, Business with Psychology student, my time at the SGO began back in November 2017 when I was employed as an Events Coordinator at the start of my first year on Campus. The team was small and very supportive, and I immediately felt I was trusted to create and initiate my own ideas; not something I had experienced before in employment. Carrying out risk-assessments, and learning who to contact to materialise an event idea, were both part of day-to-day activity, as well as creating posters, learning how to publish promotional social media posts, whilst balancing big ideas with practicality and functionality – all very new experiences to me! I was also required to attend our monthly SU Sustainability Committee meetings, which introduced me to the extent to which the SU participate in sustainable action on Campus. In addition, I gained insight into the external relationships that are necessary for both small and large organisations, and what it looks like to collaborate in the achievement of shared goals between such organisations. Studying Business, there is also great value in developing the confidence required to speak to large groups within a professional context.
Towards the end of my time in this role, I decided to make the most of the little time that was left; although, with many students off home after exams there was not necessarily a need for another Campus event. Throughout the year, I had noticed a need on Campus that was not yet being fulfilled. Upon starting University, I was fairly used to living independently. As a then 21-year-old saving time and money, whilst still eating healthy, was something I was already in the habit of doing. However, after living in halls I recognised that my living habits were not shared by most students, therefore, I felt inspired to create The Student Meal-Prep Guide (The MPG). This project of mine was published in both print and digital copy through the SGO, during the Freshers season of September 2018, and then published further on our social media platforms throughout the remainder of the year. Developing skills of writing, creativity, photo editing, and time management, the SGO enabled me to create this opportunity for myself through this incredibly rewarding experience – an opportunity that I felt fully supported by The SGO to initiate and maintain creative independence with. Not having worked in Communications before, this then provided an avenue for me to become the SGO's new Communications Officer at the start of my second year of study.
What is Meal-Prep?
Meal-Prep is a modern concept, popular in the fitness industry for its facilitation of a healthy diet and lifestyle, yet many students overlook its equal facilitation of money and time management; both very valuable to all students!
Meal-Prepping for Sustainability:
Meal-Prep can quickly address larger societal issues, significantly reducing food and plastic waste – both big challenges in Sustainability today which address the three core concerns of Sustainability; society, environment, and economy. Around £13bn of edible food is wasted in the UK each year (roughly £470 per household each year), and plastic waste has become well-understood problem thanks to social-media. Students often struggle to balance time between studies and other commitments, meaning time is consistently a finite resource.
Creating more content relevant to students within the wider context of Sustainability has allowed me to further show its accessibility to all; I hope, breaking stereotypes, and showing the ease of incorporating many sustainable practices into everyday life. Practising Sustainability goes beyond recycling and reducing single-use plastic; it is consuming local products and services where we can afford to, adopting efficient and mindful living habits, and conducting our activities in ways which do not compromise others' rights and opportunities.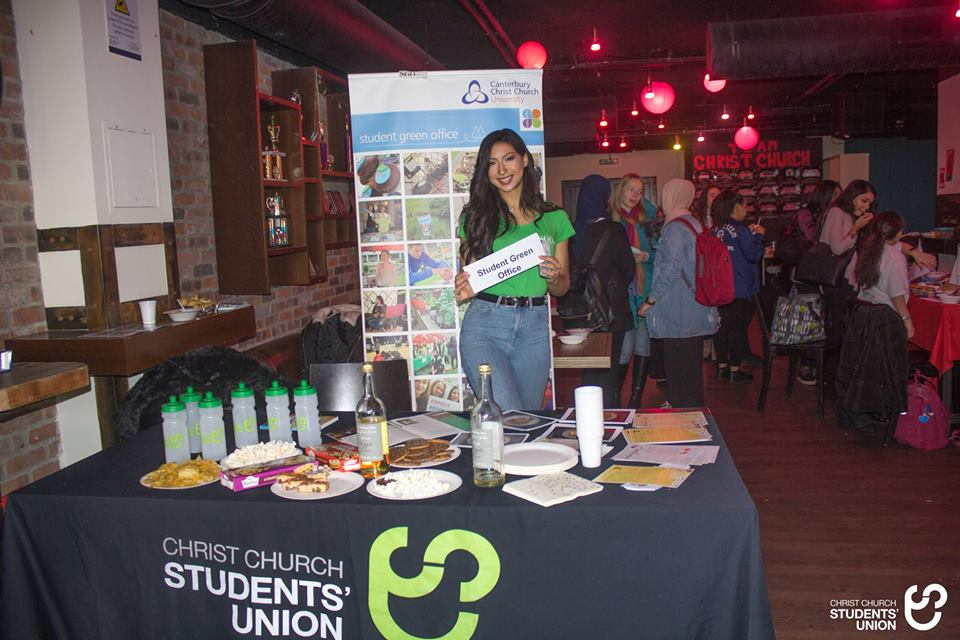 Working for the SGO has enabled me to gain further insight into the wider topic of Sustainability, learning more about the world I live in and how to gain deeper understanding of the problems we see highlighted on social are often inaccessible outside of study.