So you've carved your Jack O Lantern, what now?
You have a bowl of pumpkin guts and not a clue what to do with it. Here are some ideas so that your pumpkin holiday sacrifice isn't in vain.
Roasted Pumpkin Seeds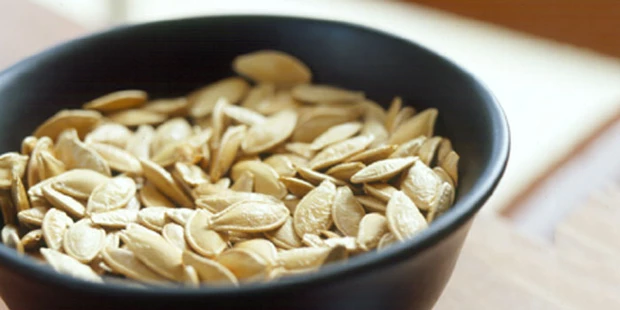 Pumpkin seeds make an excellent snack but they do take a little bit of prep.
Boil some salted water in a large saucepan, add the cleaned seeds and boil for 5-10 minutes depending on the size, then drain on a kitchen towel.
Toss the drained seeds with a little oil, some seasoning and spread evenly across a large baking sheet
Roast the seeds at 180C for about 8-10 minutes.
Pumpkin Gut Loaf
This recipe and the photograph above are from The Uni Cook – check 'em out for more great student recipes and inspiration!
INGREDIENTS:
FOR THE CAKE:
150g whole wheat flour
150g plain flour
200g light brown sugar
½ tsp bicarbonate of soda
1 tsp baking powder
1 tsp ground cinnamon
½ tsp allspice
½ tsp ground cloves
½ tsp ground ginger
Pinch of salt
40g pecan nut, roughly chopped
200g pumpkin guts, chopped
120ml vegetable oil
2 large eggs
FOR THE CREAM CHEESE DRIZZLE:
50g soft cream cheese (full fat or low fat will work)
2 tbsp icing sugar
Squeeze of lemon juice
METHOD:
Preheat the oven to 180°C. Lightly grease a 1.5 litre loaf tin and line with a thin strip of baking paper, so that it hangs over the narrow sides of the tin. This will make it easy to lift the cake out of the tin later.
Place all the dry ingredients into a large baking bowl, but reserve some of the chopped pecan nuts to sprinkle over the top of the cake. Mix with a wooden spoon until everything is well combined.
In another bowl, whisk together the pumpkin gut, vegetable oil, and eggs. Pour into the dry ingredients and beat with a wooden spoon to form a thick batter.
Pour the cake batter into your prepared loaf tin and level the surface with a spatula or back of a spoon. Sprinkle the cake with the reserved pecan nuts.
Bake in the preheated oven for about 50-60 minutes until it starts shrinking away from the edges and an inserted skewer comes out clean.
Leave the cake to cool in its tin for about 10 minutes, before gently lifting it out of the tin and placing it onto a wire rack. Leave to cool completely.
Before serving, drizzle with some cream cheese frosting. Simply mix the cream cheese with the icing sugar and enough lemon juice to create a thin, but not too runny icing. Drizzle over the spiced pumpkin gut cake and cut into slices to serve!
by Amy Bayliss-Fox, SGO Project Officer #livingwell