This is a dish believed to be of Tunisian origin, and is usually served for breakfast! However this adaptation of the dish is great to serve for dinner or even as an appetizer in smaller portions. Many of the ingredients can be brought cheaply from local supermarkets. There are also many options to make the meal how you like, for example by adding bacon, and if you don't like something that we've put in, have a play around with the recipe!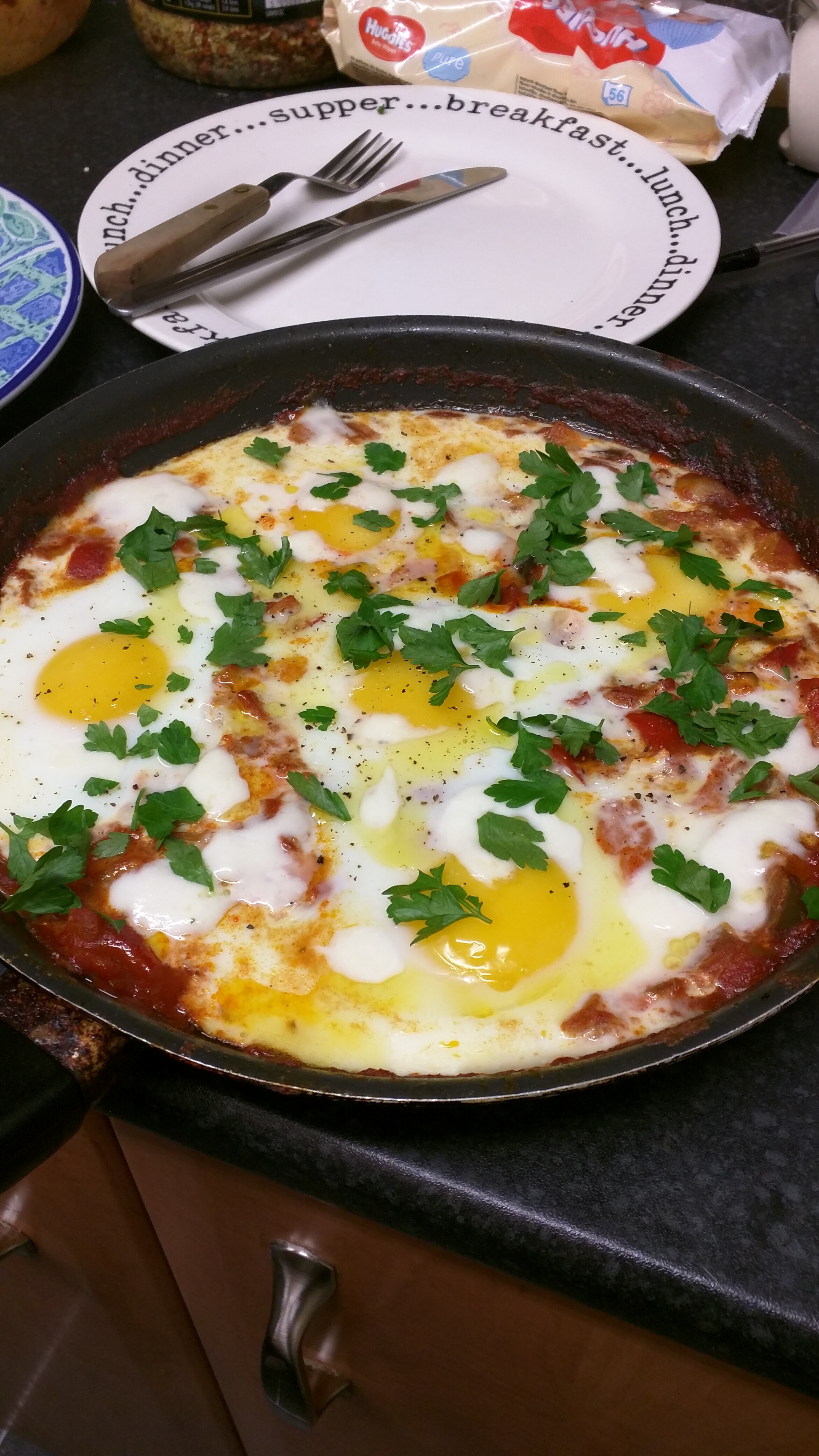 If you do know about shakshuka, you'll notice there are a few things that aren't usually found in this dish, and a few things are also missing. This really came down to the fact that we forget to pick a few things up, and Joe wouldn't stop putting bacon in!
Ingredients (for 2 people):
4 eggs (2 each, or 3 if you love food too much…)
2 tablespoons of olive oil
1 medium red onion, diced
1 red bell pepper, diced
1 handful of sliced mushrooms
1 jalapeno pepper, sliced (and seeded if you want less heat)
400g tin of chopped tomatoes (try to get good quality ones!)
1/3 cup of water or chicken stock
Optional: 4 slices of unsmoked bacon, diced (if you want a little added meatiness!)
Optional: Fresh, flat leaf parsley for decoration
For the spice mix
½ teaspoon of paprika
½ teaspoon cayenne pepper
½ teaspoon dried coriander
½ teaspoon of salt
½ teaspoon of ground black pepper
Recipe
Prepare all the ingredients before cooking – you don't want to be doing too much at once when you start cooking!
Heat up some olive oil in a medium sized frying pan to a medium-high heat, add the mushrooms and onions, and then cook until the onion is translucent. If you want bacon, add it to the mushroom and onions at the beginning, start with a cold pan and cook until the bacon is at the desired crispiness.
Add the bell pepper and jalapeno, and continue cooking for 2-3 minutes. Remember to stir throughout.
Add the spice mixture, then continue stirring and cooking for a further 2 minutes.
Add in the chopped tomatoes, and stir into the dish. If there are any big lumps on tomato, break them down with your spoon.
Pour in your water or chicken stock, and stir into the mixture.
Drop the heat to medium, and simmer for 15-20 minutes or until the mixture has thickened. Make sure to stir the mixture occasionally.
Once the mixture has thickened, make as many indents into the mixture as there are eggs.
Crack the eggs into the indents (if you have trouble with the yolks breaking, firstly crack them into a ramekin or small bowl, and then add to the mixture).
Place the pan into a preheated over (180 degrees or gas mark 6).
If you want soft yolks you will need to slightly undercook the eggs, as this dish is so hot the eggs will continue to cook once they are off the heat and you are serving up!
Dish up, and serve with a piece of toast or garlic bread!
We hope that you give this meal a try; it's easy to make, tastes great, and is really good for you!
by student bloggers Joe Rook and Abbi Ruggles