Meal Prepping – Slow Cooker Stew #LivingWell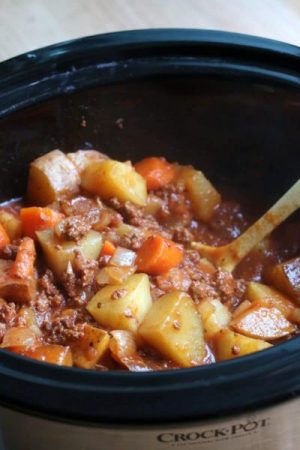 This simple recipe can be made with things you can find in your cupboard and some fresh veg. It's also the kind of recipe in which you can pretty much chuck anything veg in and it'll work. Depending on the size of your slow cooker, you can make a big batch and freeze multiple portions; perfect for the current self-isolation guidance.
Equipment
A slow cooker
A large saucepan
A wooden spoon
Freezer bags or food containers (to freeze leftovers)
Ingredients
1 big onion/ 2 medium onions
1 large potato or 2 small potatoes
2 Stock Cubes (I use chicken but you can use vegetable or beef)
1 tbsp mixed herbs
2 tbsp Worcestershire Sauce
2 tbsp Tomato purée
A whole plethora of vegetables (The beauty of this slow cooker stew is that you can throw any kind of veg that you like/ have in the fridge freezer into it and it works. I would recommend carrots, celery and )
Any meat of your choosing. (Not essential and this recipe does work without it)
Hot water
cooking oil (Vegetable or Sunflower oil)
Gravy Granules ( for thickening)
Firstly, cut your onions into small chunks and fry them off in about 1tbsp of oil in a saucepan, allow them to become softened. If you are using carrots and celery etc. you can add them here and fry them off for about 2 minutes.
Next, add the tomato purée, Worcestershire sauce and mixed herbs to the onion and veg mixture. Mix thoroughly then transfer to the slow cooker.
Add 600ml of hot water to the slow cooker. Crumble the stock cubes into the mixture and stir. Add salt and pepper to taste.
Peel and chop the potatoes into chunks and add to the slow cooker
If you are adding meat to your stew, dice it into cubes, add 1tsp of oil and brown off in the pan. Once browned, transfer to the slow cooker.
You can leave this cooking in the slow cooker for 4 hours on high or 8-10 hours on low.
If after this time the stew needs thickening up you can add gravy granules until it is at its required thickness.
Season to taste and serve.
This stew freezes really well. To heat back up first let it defrost then heat up at medium heat in a saucepan.