Ahoj! When I moved to the UK, I was met with the very popular trend of scented candles and I happily surrendered to it. And though I did not have the funds to buy a lot of candles, even with those I had I felt bad throwing them away once burned out. The containers are usually glass or decorated ceramics, which can be reused in so many ways and there is usually a good amount of the scented wax left. As you can imagine, the burned-out candles started to clutter and with the free time that lockdown has given me it was time to find a purpose for them!
That is how I came up with this feel-good DIY project – and made a whole new candle from my old burned-out candles!
What you will need:
Burned-out candles
An empty can
Pot to cook water in
Container for the new candle (I reused one of the glass jars from an old candle)
Oil – olive oil or coconut oil
Ice lolly stick as a wood wick
Follow this YouTube video on how to make the ice lolly stick into a candle wick, as it needs to soak in oil for some time prior.
Once your wick is ready to be used it is time to get the wax out of the candles. Pour some boiling water into the candles. The wax will melt and rise to the top. As the water cools down the wax layer on top will harden and you will be able to remove it in one piece. It is possible that you might need to repeat this if a candle has a lot of wax leftover, not all of it will melt on the first try.  If you want to use tea candles it is easy to remove the wax with a toothpick, no need for hot water.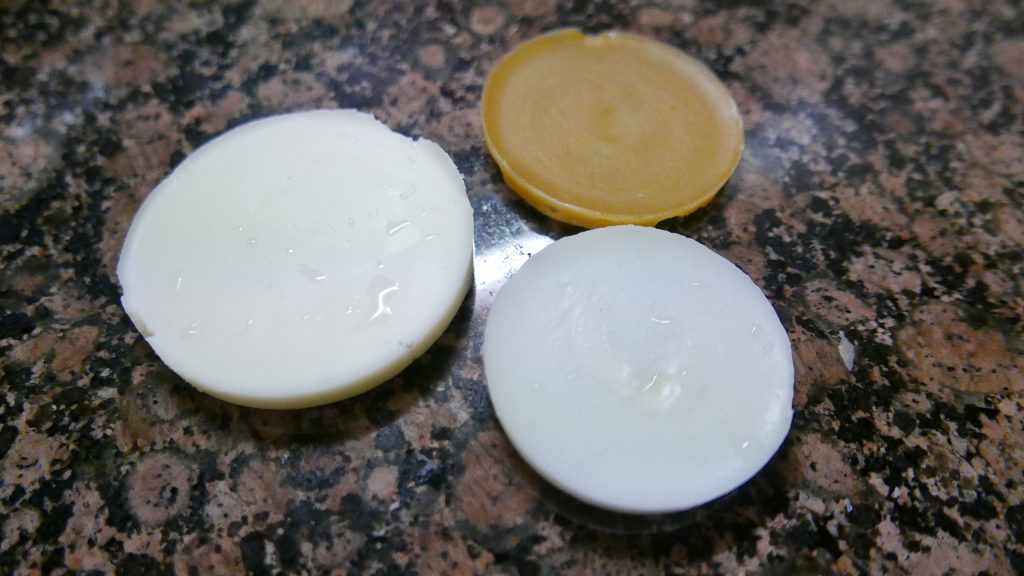 You will be left with clean wax disks like these. They are a lot easier to store, in case you would like to collect wax over longer period of time.
Prepare your new candle container, it can be a mug or an old jar from a jam for example. As I mentioned, I used one of the glass jars from an old candle. Once all the wax was out, I just removed the metal bit stuck to the bottom and the jar was clean as new.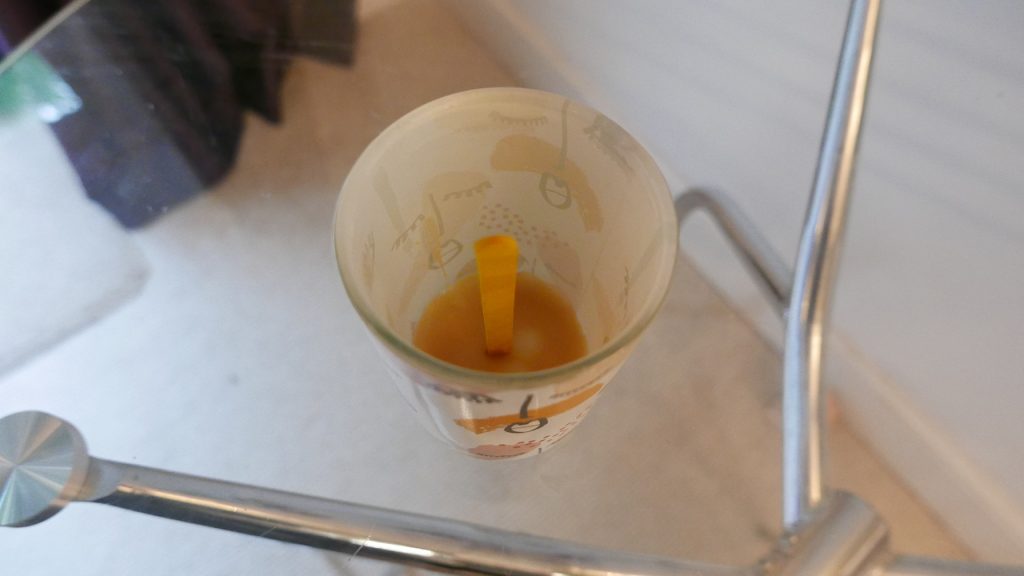 It is time to finally make the candle. Cut the top off a drink can or use a cleaned can from baked beans for example. Please be careful as the edges can get very sharp! Put the can into a pot on a stove with hot water in it and keep the water hot. Break a disk of wax into smaller pieces and put those into the can to melt. Once melted, you are ready to pour the first layer of the new candle into the container of your choice. Right after pouring it, take the wooden wick, place it in the centre of the container and hold until the wax hardens and keeps the wick in the position. Then melt another portion of the wax and pour it in. You can speed up the hardening of the wax by putting your candle in the fridge. Repeat for all the disks and portions of wax, to fill in the container and let the wax harden in between layers.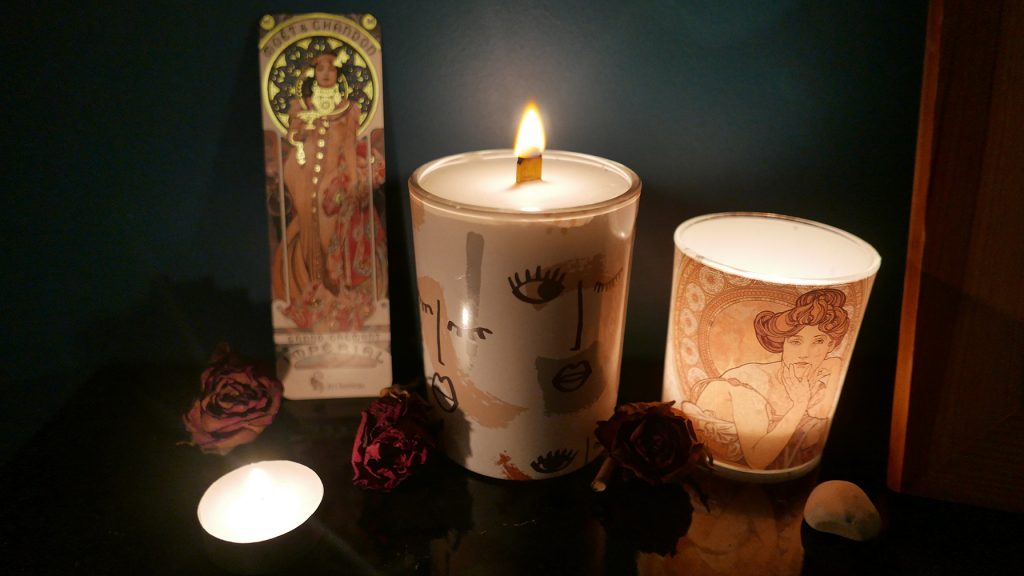 And that is it, your candle is ready! You can place it somewhere close to you to enjoy the warm sent only a candle can offer and the comforting fire crackling sound of the wooden wick. It might take a few tries for the wick to start burning properly, so have your lighter ready.
As for the emptied containers, you can use them simply as candle holders or as storage for pens, make up, toothbrush etc. If you really like their design, they can serve well as decorative flowerpots. I was left with a tin container with a lid too, so I cleaned off the sticker and filled it with a homemade mixture of loose teas that I gifted my aunt for Christmas. And knowing her, she is going to reuse the tin too, after she is done with the tea, so the tin will still be useful for hopefully years to come. And I don't have to tell you, that reusing things and giving them new purpose feels great!
I hope you will give this DIY project a try, if you do, don't forget to share your creation with us by tagging us @cccusustainability on Facebook and Insta and @cccuscn on Twitter!
by Mirka Karaskova, SGO Project Officer #actingtogether